Press release
Arrival of C-130 aircraft to get aid to cut-off areas
RAF C-130 aircraft lands at Cebu airport in the Philippines where it will carry aid to the hardest to reach areas.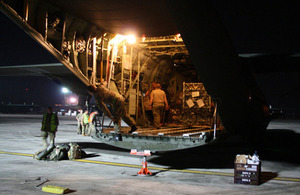 An RAF C-130 aircraft has now landed at Cebu airport in the Philippines where it will carry aid to the worst-hit and hardest to reach parts of the country, including Tacloban, Roxas, Ormoc, Guiuan, Borongan.
The C-130 is a Tactical Air Transport aircraft which can be flown in to smaller airfields and has the flexibility to deal with shorter runways and unpredictable circumstances. The aircraft, its three aircrew and RAF support personnel will assist the Department for International Development (DFID), and the United Nations (UN) to get aid supplies and humanitarian workers into parts of the Philippines they are most needed.
Recent modifications to the C-130 have given it advanced engines and propellers which, combined with a new digital engine-control system, give it increased take-off thrust and better fuel efficiency. The cockpit of the aircraft is fully night-vision compatible with the use of night-vision goggles.
Secretary of State for International Development Justine Greening said:
"The arrival of an RAF C-130 aircraft in Cebu is a significant reinforcement of the UK's aid relief efforts in the Philippines.
"This flexible and efficient aircraft can handle damaged airfields and get into areas that would be otherwise inaccessible.
"Alongside HMS Daring, it shows how the UK is focused on not only getting aid into the Philippines but on getting it to the remotest areas where the need is greatest."
The UK is providing urgent humanitarian support for up to 800,000 people in the Philippines in the wake of Typhoon Haiyan.
Thousands of people in remote communities have lost their homes and everything they own. They are in the open and completely exposed to the elements.
The UK will provide over £50 million in humanitarian support to help aid get through to hard-to-reach areas.
UK support includes:
matching the first £5 million donated to the Disasters Emergency Committee Appeal for the Philippines, ensuring leading charities have the resources they need to help victims of the typhoon and make the public's generous donations go even further

£8 million for the Rapid Response Facility so partners on the ground can provide crucial humanitarian aid

£3 million to fly vital supplies such as water purification kits, cutting equipment and medical support, as well as teams of humanitarian and medical experts, to flood hit areas

at least £5 million for the deployment of MOD assets to support the aid effort

£30 million to support the UN and Red Cross emergency appeals for the Philippines. The funding will be used to deliver vital supplies to more than 500,000 victims of the Typhoon Haiyan and support UN and Red Cross teams working on the ground as they coordinate the international relief effort.
Notes to editors
The C-130 has come from RAF fleet in the UK and is currently expected to assist the UK's humanitarian efforts in the Philippines for ten days.

Costs will be covered by the Department for International Development.

C-130 Specifications:

Engines: Four Allison AE 2100D3 turboprops
Thrust: 4700 hp each
Max speed: 340kts
Length: 34.34m
Max altitude: 32,000ft
Span: 40.38m
Aircrew: 3
Based: RAF Brize Norton
General media queries
Follow the DFID Media office on Twitter - @DFID_Press
Published 19 November 2013