Press release
Arrests made for poaching offences in north east
Nets seized during illegal fishing crackdown in Northumberland.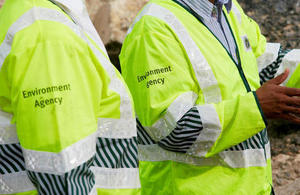 Three men have been arrested after illegal fishing nets were recovered in Northumberland.
Environment Agency officers made the arrests at Hagg Bank near Wylam in the early morning of today, September 18, in a joint operation with Northumbria Police.
Three men aged 48, 37 and 30 were arrested on suspicion of salmon poaching.
It's suspected they were poaching salmon on the River Tyne using illegal nets, which are extremely damaging to fish stocks.
Two nets were seized during the operation, which had 13 fish inside. The fish, nets, and other equipment were seized and the investigation is ongoing.
At the end of July three men were arrested under similar circumstances in the same location in a joint operation between the Environment Agency and Northumbria Police.
The Environment Agency's Dave Edwardson said:
Poaching has a serious impact on salmon stocks in our rivers as well as on angling and as a result the local economy.

That's why we take reports of suspected poaching seriously and work closely with the police to take action where appropriate.

We'll continue to take action against all aspects of illegal fishing activity to protect our fish stocks, particularly ensuring those using serious illegal and potentially damaging methods are targeted.
Northumbria Police Neighbourhood Inspector for Tynedale East, Julie Cole, added:
Poaching remains a wildlife crime priority and officers are working closely with the Environment agency to tackle this crime.

The activities of poachers is a concern to our rural communities and we've found that criminals are travelling into Northumberland, particularly the good fishing stretches of the Tyne as it runs through Tynedale, to take advantage of the excellent fishing conditions we have locally.

We will continue to work closely with partners to take action against those found fishing illegally.
Anyone discovered committing offences could face a substantial fine at court. The Environment Agency urges anyone to report illegal fishing by calling 0800 80 70 60.
All income from rod licence sales is used to fund Environment Agency work to protect and improve fish stocks and fisheries, including improving habitats for fish and facilities for anglers, tackling illegal fishing and working with partners to encourage people to give fishing a go.
Buying a rod licence is quick and easy - you can buy them online at the Post Office.
Published 18 September 2015