Army's Apache fires first Hellfire missiles at sea
In a significant milestone in proving the capability of Apache to operate and strike from the sea, 30mm rounds and Hellfire missiles were successfully…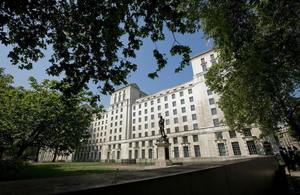 In a significant milestone in proving the capability of Apache to operate and strike from the sea, 30mm rounds and Hellfire missiles were successfully fired against seaborne targets in a long-planned exercise near Gibraltar.
In total, 550 30mm rounds and nine radar-guided Hellfire missiles were fired, achieving a 100 per cent strike rate. This was the first time that Hellfire has been launched in the maritime environment.
The last two weeks have seen a succession of 'firsts' for the Army Air Corps (AAC) Attack Helicopter Force at sea.
Currently deployed onboard HMS Ocean, the Royal Navy's largest warship, 656 Squadron from 4 Regiment AAC have spent the past few weeks conducting intensive training that will allow them to operate effectively by day and by night.
Major Mike Neville, who commands 656 Squadron onboard HMS Ocean, said:
Today we proved that Apache can operate effectively from a Royal Navy ship, transporting munitions from the ship's magazine, aircraft upload, launch, firing and then recovering to HMS Ocean.
Once again 656 Squadron is at the leading edge of attack helicopter capability development. We are now well on the way to proving the maritime strike capability in highly complex scenarios.
Despite the majority of 656 Squadron having seen recent service in Afghanistan, the maritime environment presents many new challenges.
Understanding shipborne life and learning new procedures for the preparation and movement of ammunition from the ship's magazine to the deck, efficiently and safely, was no small achievement.
In combination with the successful live firing aspect of the exercise, 656 Squadron have established a firm base on which to develop their maritime role.
Commander Jol Woodard, the Commanding Officer of HMS Ocean's Air Group, said:
Today's achievement is a landmark in the integration of the Apache into the maritime domain and is also a very important step in the development of the UK's amphibious capability.

I have been delighted with the way in which 656 Squadron and their support elements have integrated into the Air Group as a whole and the success of this whole-ship evolution demonstrates just how potent a truly joint Air Group can be.
Captain Andrew Betton, HMS Ocean's Commanding Officer, said:
HMS Ocean is the UK's only dedicated amphibious helicopter carrier and it is fitting that we provided the platform from which the Army Air Corps have made history. 656 Squadron have fully integrated themselves onboard the ship and are an integral part of HMS Ocean's ship's company.
The Secretary of State for Defence, Dr Liam Fox, said:
This important milestone in Army aviation and amphibious operations demonstrates clearly the versatility of our cutting edge military equipment.

To see Apache operating to its full capacity at sea reinforces the Government's commitment to shape and equip our Armed Forces to best meet the range of current and future commitments.
656 Squadron and HMS Ocean are part of the Response Force Task Group deployed on Cougar 11, which is a long-planned series of exercises in the Mediterranean and Middle East. See Related News for more on this deployment.
Published 13 May 2011