News story
Army helicopters arrive in the Philippines
A detachment of Army Lynx helicopters has arrived in the Philippines as part of the international disaster relief effort.
659 Squadron of 9 Regiment Army Air Corps (AAC) is embarked on the Royal Navy amphibious helicopter carrier HMS Illustrious.
'Lusty', as the ship is known, yesterday officially took over from HMS Daring, which is now en route to Tokyo to continue with her regional engagement programme.
The Army's 3 Lynx helicopters on board HMS Illustrious will be essential in assessing the scale of damage and determining where aid needs to be targeted, as well as being able to lift supplies, materiel and medical teams to remote areas which have not yet received assistance.
659 Squadron were redeployed from counter-piracy operations around the Horn of Africa to render aid in the Philippines. They arrived today after a high speed dash of almost 6,000 miles across the Indian Ocean and South China Sea.
The squadron is based in North Yorkshire, normally supporting land-based operations as part of 16 Air Assault Brigade. The detachment embarked aboard HMS Illustrious comprises 49 men and women and are a mix of AAC personnel and Royal Electrical and Mechanical Engineers.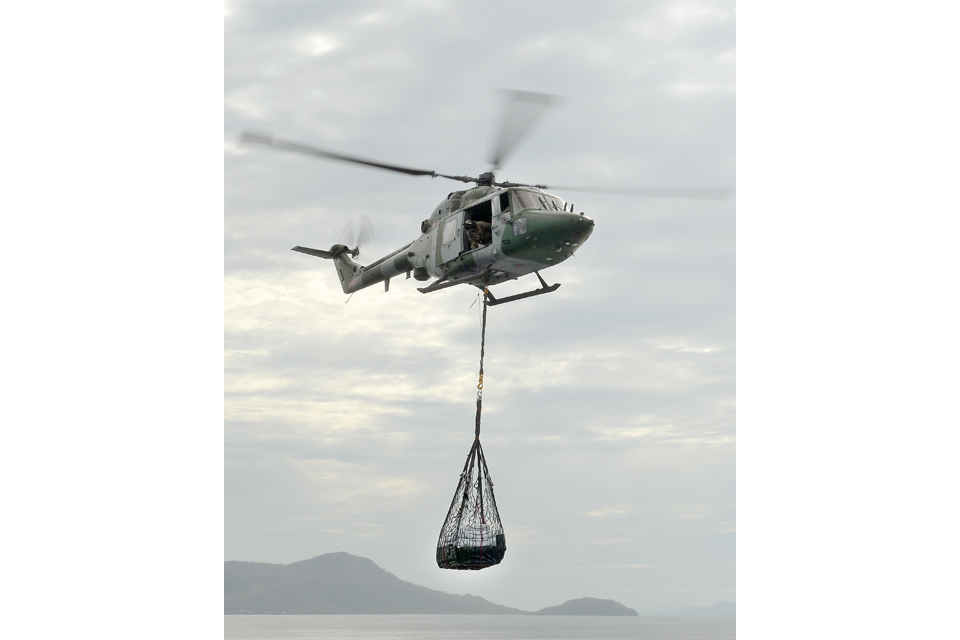 Officer Commanding 659 Squadron, Major Hannah Hayward, said:
We have worked hard to make sure that all of our aircraft are ready for what we expect to be a very busy time ahead. We have a tremendous amount to offer the aid effort.

In particular, we can survey large areas and get to remote islands and places inland that others simply cannot get to at the moment. Helicopters will be the only way to deliver essential aid until roads and other infrastructure has been repaired.

Only one of my team had operated from a Royal Navy aircraft carrier at sea, so there have been many firsts over the last 4 months.

The crew of HMS Illustrious have been very supportive to us in finding our feet and honing our procedures. I think we are just about to prove exactly how much we can do together.
The UK's military support in the Philippines also includes 2 RAF aircraft, a C-130 Hercules and a C-17, which are helping distribute aid to the typhoon-hit islands.
Published 26 November 2013