News story
Army commandos train with US Marines
Commando gunners from the Royal Artillery have been training with their American counterparts in the USA and at home in the UK.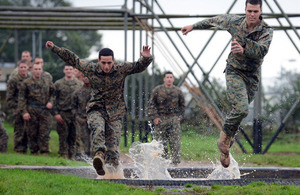 Soldiers of 148 Battery, 29 Commando Regiment, spent the best part of a month taking part in Exercise Burmese Chase this summer. It saw the unit travel to the intense heat and desert-like landscape of the Camp Pendleton training area, near San Diego in California, to train with US Marines from the 1st Air Naval Gunfire Liaison Company (1st Anglico); one of the most specialist units in the US Marine Corps (USMC).
The exercise gave 29 Commando access to one of the most state-of-the-art training facilities in the world with everything from fast jets to attack helicopters at their disposal. It also gave them an opportunity to take part in mock operations with the US Marine Corps, which saw them fast-roping from helicopters, as well as using US rifles and other weapons.
Close working relationship
Burmese Chase was designed to maintain competency in using joint firepower through a training package which progressed from simulations to live firing exercises, with particular attention on learning about the differences in procedures that each nation employs. The exercise also allowed British parachutists to qualify under American canopies, enhancing the ability to work on airborne operations together, combined with practising patrol and urban operational techniques in mixed nationality teams.
It all helped to reinforcing their already close working relationship; something which could be called upon if 29 Commando and the USMC go into battle together in the future.
Now, this joint training opportunity is being reciprocated with 20 members of the 1st Anglico being hosted by 29 Commando in the UK for a few weeks. One of the first stops was to 148 Battery's base in Poole to show the US Marines some of the amphibious skills which 29 Commando specialises in and to rehearse joint firepower procedures under simulated conditions.
'A lot tougher by far'
Then it was off to Commando Training Centre Royal Marines (CTCRM) Lympstone in Devon and an opportunity for the US Marines to see what it takes to earn the right to wear the coveted Green Beret of British Army Commandos, as they were tested over the Bottom Field assault course, which is part of the gruelling and revered All Arms Commando Course.
Speaking after completing the Bottom Field assault course, Sergeant Rashad Hargrow, of 1st Anglico, said:
What they do here is a lot tougher by far, doing this with full kit would be beyond me, it's ridiculous. It was a good time, it was fun.
USMC Gunnery Sergeant Daniel Clark is on a 2-year exchange at CTCRM. He directed the marines through the assault course:
I think it's a good opportunity for the lads to come here and see what their sister corps do across the pond. So few US Marines get the opportunity to come here," he said.

The lads did phenomenal. They've done it in true leatherneck fashion. They had no preconceived notions, they came here and adapted, it's what we do and it's good to see.
Captain David Moriente, also of 1st Anglico, said:
Today has been pretty good, definitely tough and challenging, you have to be in good physical fitness to do it. It was a good work out for us but if we had to do it in the same order as them [Army commandos] we would probably be hurting, but they work up to it pretty good.
'Relationship forged in battle'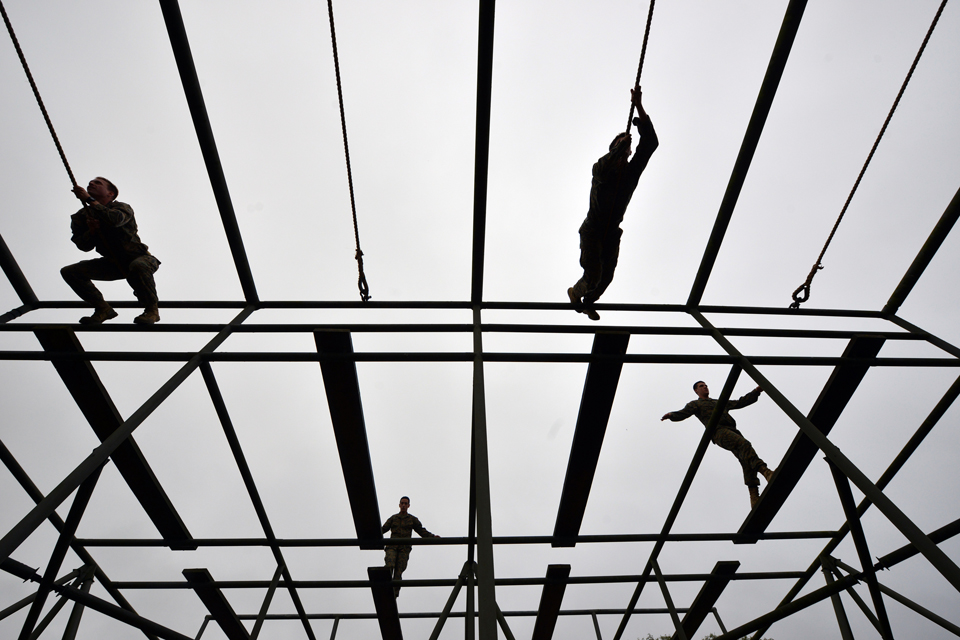 This is our most important relationship outside the UK and that is for a number of reasons," said Lieutenant Colonel Ed Dawes, Commanding Officer of 29 Commando Royal Artillery.

Firstly it's highly likely we will be working together again and away from a tactical level relationship, friendships are really important… You have to be able to work together in a technical sense but also in a human sense in moments of pressure, fear and uncertainty, it's really getting to know people.
He added:
[The relationship] was forged in battle ten years ago in Op Telic on the liberation of Iraq when 1st Anglico and 29 Commando worked together and decided to keep doing that to much more benefit… We wanted the USMC to understand us culturally and also to go and have some fun together as well.
Published 31 October 2013