Armoured engineer squadron returns from Afghanistan
Soldiers from 8 Armoured Engineer Squadron, part of 26 Engineer Regiment, have returned to Perham Down after a six-month deployment to Afghanistan.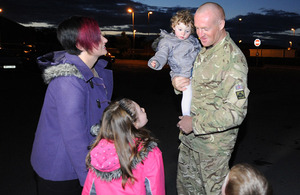 The regiment has been fulfilling the role of Task Force Helmand Engineer Group on Operation HERRICK 16, providing infrastructure support, including road repairs, patrol base upgrades and permanent bridge emplacement, across the Helmand area of operations.
80 members of 8 Armoured Engineer Squadron (8 AES) were welcomed home at Swinton Barracks in Perham Down by their families, friends and colleagues.
Major Jamie Stuart, Officer Commanding 8 AES, was greeted by his wife, Felicity, and their 15-month-old daughter, Isla:
It was a great welcome and wonderful to see my family and the other families," he said.
All the guys have been waiting to see them and they are in high spirits to be home. They deserve a drink as they have done a hard job really well.
During the tour 8 AES was involved in some high profile tasks, including the upgrade of a road into Bost Airfield, which housed a US mentoring compound.
The task, which saw the use of civilian contactors, proved to be hugely successful and provided a road that could be used not only by ISAF forces but also by US Marine Corps mentors, the Afghan Uniform Police and local nationals. The squadron was also involved in a number of patrol base and checkpoint closures and handovers in Nahr-e Saraj (South).
Major Stuart explained:
It has been a very busy tour with a mixture of construction and deconstruction as well as some operational taskings which created more security, for example, at forward operating bases.
It was a mixture of developed and rural environments which had their challenges but my soldiers coped well. It was a good tour, and keeping morale up when you're busy is much easier.
During the tour the regiment lost one soldier, Lance Corporal Matthew David Smith, from 30 Armoured Engineer Squadron, who was killed in the Nad 'Ali district of Helmand province when he was hit by small arms fire on Friday 10 August 2012.
26 Engineer Regiment will hold its Afghanistan medal parade at Perham Down on Friday 5 October before its soldiers take a well-earned period of leave.
Published 1 October 2012