News story
Armed Forces support London Poppy Day
Royalty, celebrities and Armed Forces personnel took to the streets yesterday for the launch of the Royal British Legion's London Poppy Day.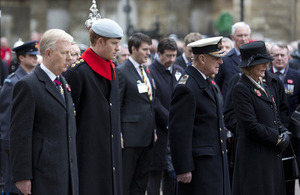 The Duke of Edinburgh and Prince Harry of Wales opened the Field of Remembrance at Westminster Abbey, where 100,000 crosses have been planted in memory of fallen soldiers.
Elsewhere in the city, the Duke and Duchess of Cambridge gave poppy sales a boost by helping volunteers at High Street Kensington Tube station as the appeal aimed to raise more than £1 million in 1 day.
At Number 10 Downing Street, Prime Minister David Cameron welcomed the Royal British Legion (RBL) Routemaster bus, and the Poppy Girls performed the appeal's official song.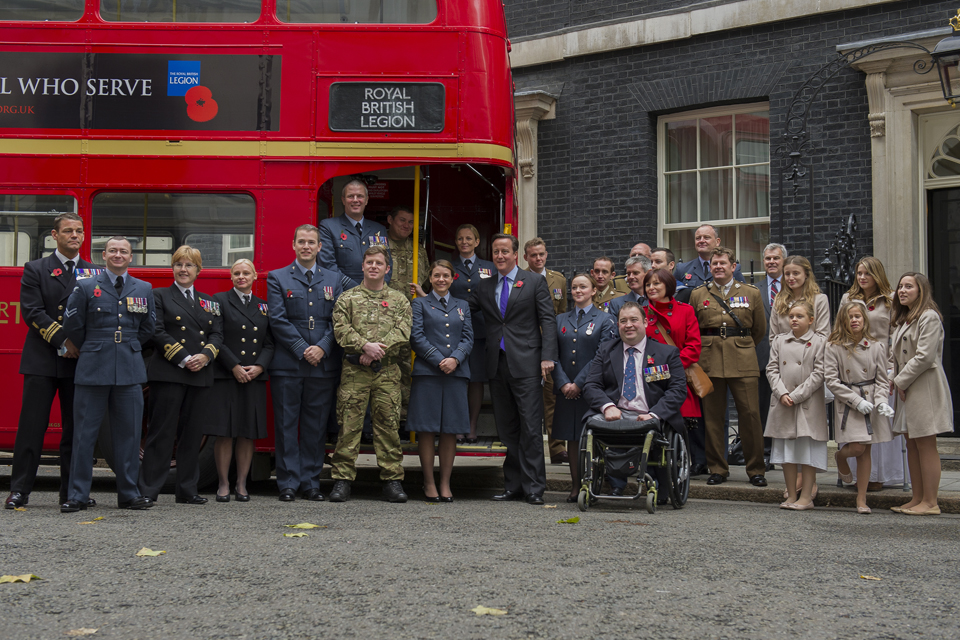 2,000 uniformed service personnel and veterans descended on Covent Garden to accompany actress Barbara Windsor as she encouraged members of the public to get involved in London Poppy Day.
Fundraisers were at 80 Tube and train stations including Covent Garden, where a stage was set up for military performances.
Soldiers from the Welsh Guards and Coldstream Guards welcomed arrivals at London's Heathrow Airport with their collecting, and 50 pipers and drummers organised by the Scots Guards Association raised the roof in accompaniment to give visitors a real taste of British tradition.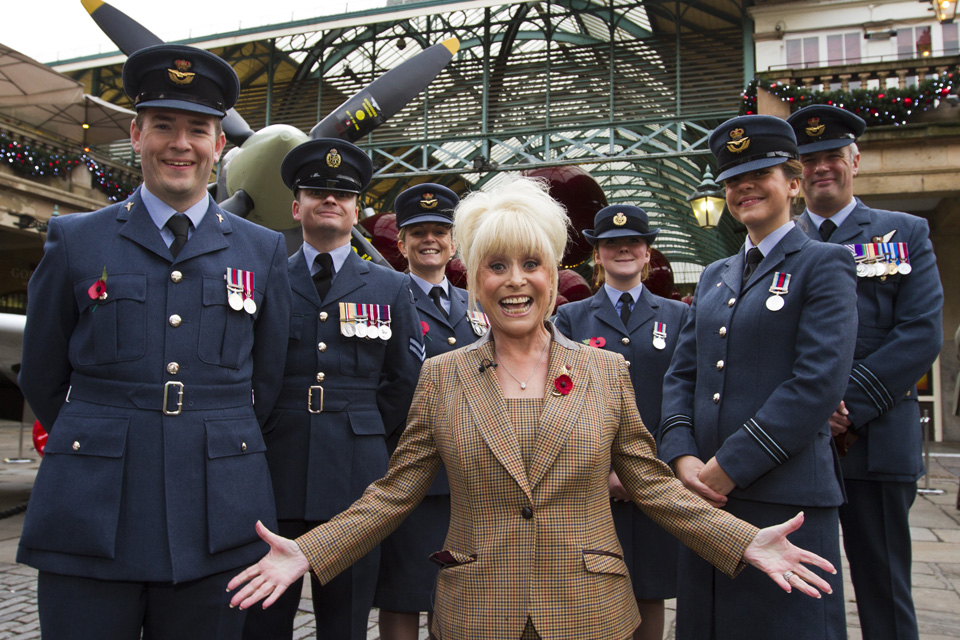 The commanding officer of the 1st Battalion Welsh Guards, Lieutenant Colonel Dino Bossi, said:
We always support London Poppy Day. I had no shortage of soldiers volunteering to come out and collect because we all benefit from the Royal British Legion in some way.

All my soldiers who have been injured on deployment have been helped by the RBL, as have dependants of those who have died, not only in Afghanistan, but also in Iraq, Northern Ireland and earlier conflicts.
Royal Navy personnel from the Commando Helicopter Force joined other service personnel at various mainline railway stations around the city at rush hour to collect for London Poppy Day.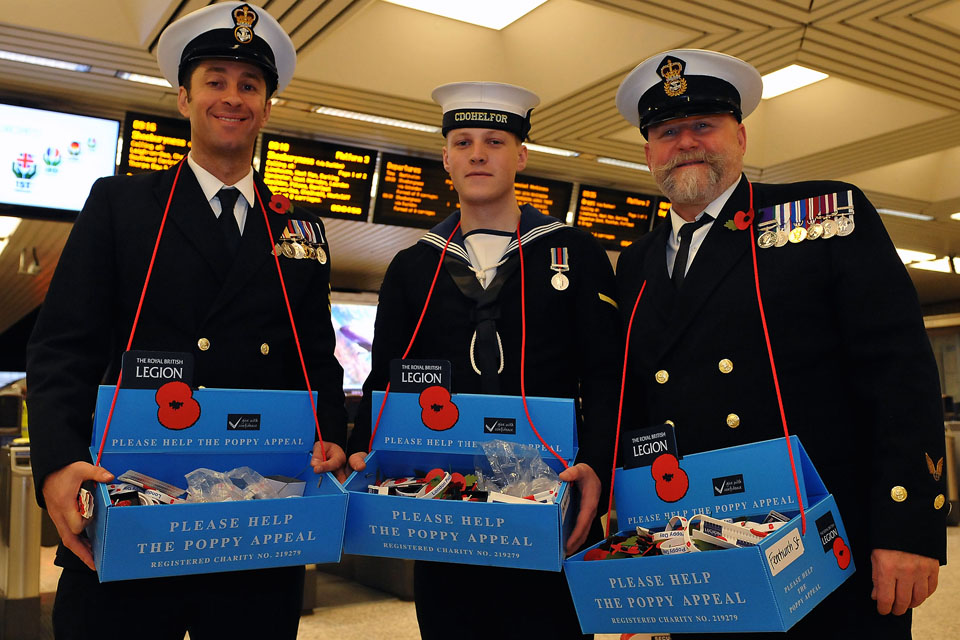 Thames Clippers also took part in London Poppy Day, allowing RBL volunteers on board the fleet to collect money for the Poppy Appeal.
And, thousands of miles from home, the ship's company of HMS Lancaster mustered on the flight deck and paid their respects by creating a bright red poppy, bowing their heads in silence.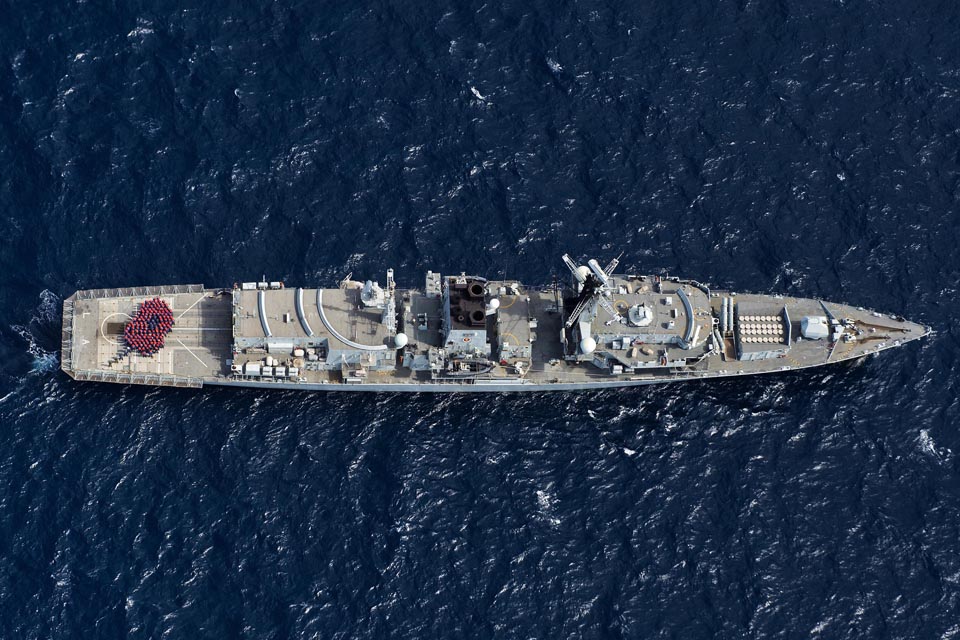 London's Poppy Day was just one of a series of concentrated 1-day blitzes mounted by RBL around the UK to raise money for the Poppy Appeal this year.
Other towns and cities where events have been held include Birmingham, Manchester, Kent, Woking, Cardiff, Plymouth, Coventry, Bristol, Nottingham, Huddersfield, Leeds, Oxford, Bicester, Derby, Chesterfield, Cheltenham, Watford, Shrewsbury, Reading and Thame.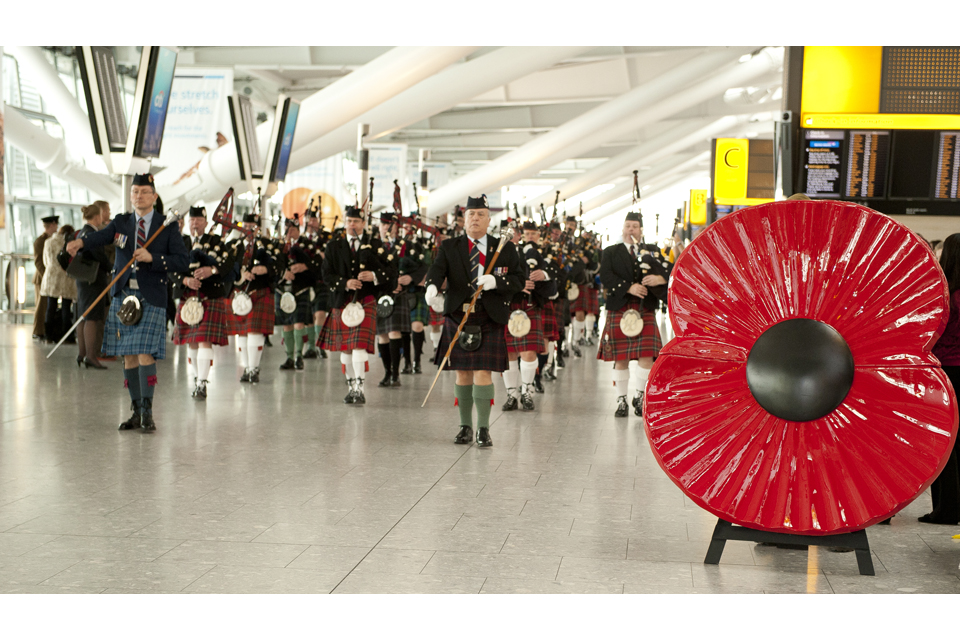 Published 8 November 2013