Armed Forces Muslim Forum launches
Defence Secretary Michael Fallon has launched the country's first ever Armed Forces Muslim Forum in partnership with the Muslim community.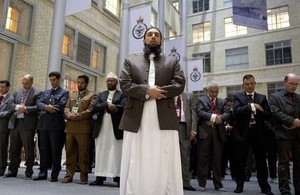 On Wednesday 23 July, the Defence Secretary oversaw 'Iftar', the traditional breaking of the Ramadan fast, to celebrate the new platform that will enhance the partnership between the Muslim community, the Ministry of Defence and the armed forces.
The forum aims to encourage better dialogue and help highlight the crucial role British Muslims play in our armed forces both past and present.
At the event, Mr Fallon addressed members of the British Islamic community, thanking them for their commitment to this crucial initiative and reflecting on the contribution of Muslims to the armed forces.
With the centenary of the First World War just around the corner, the launch of the forum is a timely and poignant reminder of the enormous contribution and sacrifice made by hundreds of thousands of Muslim troops in 1914.
Michael Fallon said:
I'm very proud to be able to launch the country's first Armed Forces Muslim Forum. This is a real milestone, which underlines the strong relationship that exists between our armed forces and the Muslim community, and shows our commitment to strengthening it.
Also at the event were serving Muslim members of the armed forces and Imam Asim Hafiz, Islamic adviser to MOD. As MOD's first armed forces Muslim chaplain, he understands the importance of good dialogue between the services and the Muslim community.
Imam Asim Hafiz said:
Loving your country and serving your community is an important part of the Muslim faith. Muslims have fought for this country since the First World War.

Some people have questioned whether you can be a good Muslim and serve in our armed forces because of the wars in Iraq and Afghanistan. But the young men I've served alongside in Afghanistan know that they're trying to make the country safer for the people who live there.

Some of these soldiers are very devout but they don't feel a contradiction between being a Muslim and serving their country. We need to get out there and make that argument much more clearly.
Sughra Ahmed, President of the Islamic Society of Britain, said:
British Muslims are proud to play an active part in our society and the centenary of the First World War is a chance to show how this shared history stretches back over a hundred years and continues today.

The Armed Forces Muslim Forum will help promote the Muslim community's support and participation in the armed forces, as well as giving us a chance to discuss some of the challenges we face.
Members of the Muslim community also spoke at the event. Their speeches were followed by a call to the Maghrib prayer, before everyone came together for 'Iftar', the breaking of the fast meal.
Published 24 July 2014