News story
Armed Forces join in Bradford Diwali celebrations
Soldiers of various faiths have joined members of the Hindu community in Bradford to celebrate Diwali, the Hindu festival of lights.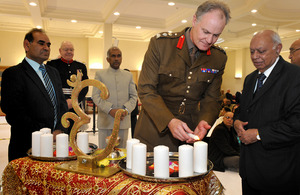 Service personnel from Hindu, Buddhist, Muslim and Christian backgrounds took part in the festivities at the Shree Lakshmi Narayan Temple, a Hindu mandir (temple) on Leeds Road, in recognition of the religious diversity of today's Armed Forces.
It was also a means of bringing together the people of Bradford and members of the Armed Forces community that live among them.
It was attended by the Commander of 15 (North East) Brigade, Brigadier Greville Bibby, the Consulate General of India, Dr Vyragyam Siddi Ramalingam, the Deputy Chaplain General, Dr David Coulter, and the Lord Mayor of Bradford, Councillor Dale Smith.
Other dignitaries included the Deputy Lord-Lieutenants of West Yorkshire, Major Stan Hardy and Dr Raminder Singh, Canon Andy Williams representing the Bishop of Bradford, and the leaders of other faith communities.
After the ceremony, a number of guests gave an address and each was presented with a gift by Temple President Dr Achhar Paul Dharni. This was followed by lunch prepared by members of the temple.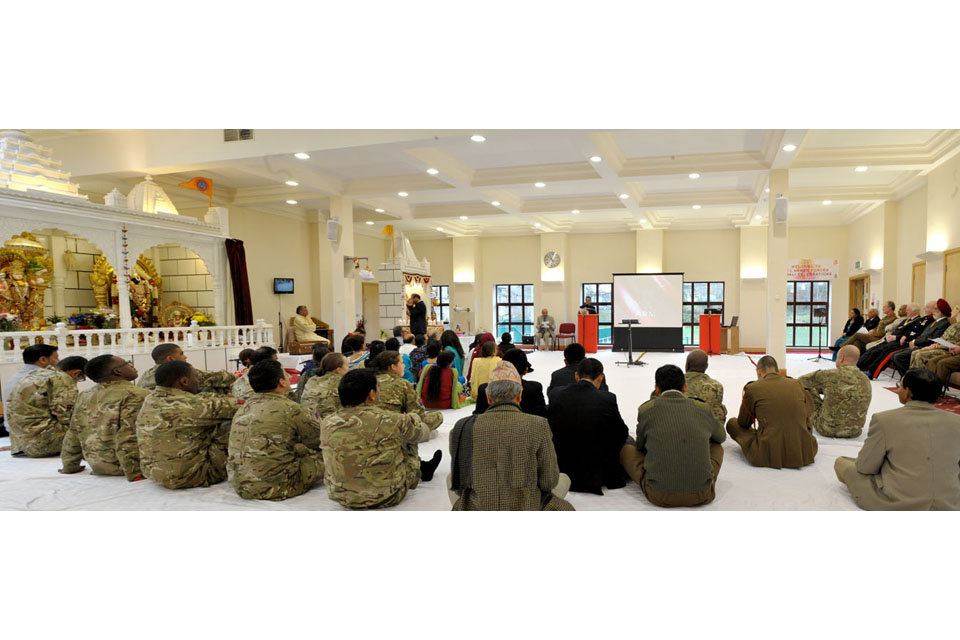 The event was organised during Inter Faith Week by the HM Forces Hindu Chaplain, Acharya Krishan Kant Attri, who ministers members of the Hindu faith serving in the Army, Royal Navy and Royal Air Force.
He said there had been just 230 Hindu Service personnel when he took over the post seven years ago. Today, there are now 1,800 Hindus serving in the British Armed Forces.
Mr Attri explained:
The Armed Forces is a large, multicultural organisation made up of many religions and beliefs.
So it is appropriate that we should join the Hindu community in Bradford to celebrate Diwali, which is a festival observed all around the world - not just by Hindus, but also by Sikhs, Jains and Buddhists.
Brigadier Bibby, commander of an area covering the North East, Yorkshire and the Humber, said his military community encompassed 17,000 soldiers and their families:
Many of these soldiers and their families originate from towns such as Bradford, and when they have finished their service in the Army many of them return to their home towns.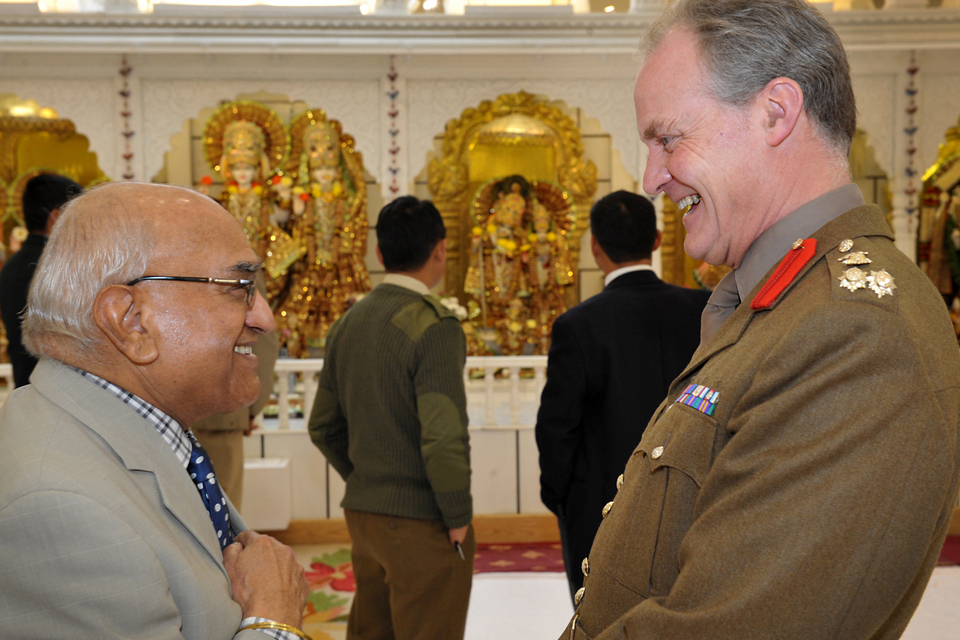 It is vital, therefore, that we maintain close links with the communities that our men and women come from," he said. "Not simply to make reintegration into the civilian community much easier, but also to help local people to have a better understanding of the Armed Forces and the sacrifices they make.
Paying tribute to Private Christopher Kershaw from Bradford, who was killed by the Taliban along with five fellow soldiers from 3rd Battalion The Yorkshire Regiment in Helmand earlier this year, Brigadier Bibby said:
Our soldiers serving in Afghanistan are the bravest in the world, but they need public support. It is most important for a soldier serving on operations to know that they have the support of their community back at home.
The Shree Lakshmi Narayan Temple in Bradford is the oldest place of Hindu worship in West Yorkshire. The temple, which started out with just a handful of families, now attracts some 2,000-3,000 worshippers.
It is also attached to a community centre which provides hot lunches for elderly people, religious education classes, cultural activities and mother tongue classes.
Related News
Published 6 March 2013