Armed Forces Community Covenant signed in Catterick
An Armed Forces Community Covenant, a voluntary statement of mutual support between a civilian community and its local Armed Forces community, was signed at Catterick Garrison yesterday.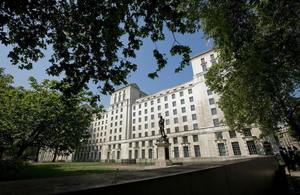 The Covenant was signed at the Catterick Leisure Centre, in Catterick Garrison, with Councillor John Fort, Chairman of north Yorkshire County Council, Councillor Jill McMullon, The Chairman of Richmondshire District Council, and Brigadier Greville Bibby, Commander of 15 (North East) Brigade present.
The Community Covenant initiative was one of the key measures in the Armed Forces Covenant published in May 2011, which outlined the moral obligation between the Nation, the Government and the Armed Forces, and aims to improve support to the Armed Forces Community (which includes serving personnel, their families and veterans). See Related News.
The aims of the Community Covenant include:
to encourage local communities to support the Armed Forces Community in their areas, and vice versa;
to promote understanding and awareness amongst the public of issues affecting the Armed Forces Community;
to recognise and remember the sacrifices made by the Armed Forces Community; and
to encourage activities which help to integrate the Armed Forces Community into local life.
Community Covenants have already been launched in Oxfordshire, the Vale of Glamorgan and Hampshire, and one is due to be launched in Portsmouth soon. The intention is that as many areas as possible should adopt Community Covenants.
Speaking at Catterick yesterday, Cllr Fort said:
We have worked very hard to meet the needs of the people and the military - those serving now and the veterans. North Yorkshire fully supports the Community Covenant. We owe a huge debt of gratitude to those who are prepared to put their lives at risk for our security.
Cllr McMullon said she was immensely proud of their connection to the Armed Forces and the close working relationship the Council already had with the Services and would ensure it continued into the future.
Brig Bibby said in the past the Armed Forces had been behind the wire and, as a result, were not part of the community, adding:
There have been some real challenges for us, but this Community Covenant is one of the most exciting developments in my 30 years of service and it is very much on the back of the Afghan factor.

This is one of the most important things I will do while commanding in the area. North Yorkshire County Council has been leading with this and we have been meeting for three years to get to this signing. I am extremely grateful to the County and all the districts therein. The trick now is to deliver and honour the Covenant.
All the signatories to the Covenant have pledged to meet at least once a year to review the support and services they provide under the terms of the Covenant and to upgrade and improve them wherever necessary.
Published 1 July 2011