World news story
Archbishop of Arequipa received antique maps from British Consul
Honorary Consul in Arequipa Francis Rainsford delivered two copies of the XVIII century maps of the Bishopric of Arequipa found in the British Library.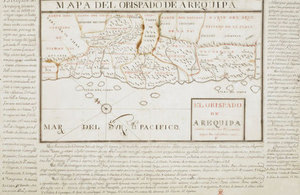 On May 7, Honorary British Consul in Arequipa Francis Rainsford presented two copies of late XVIII century maps to Monsignor Javier del Río, Archbishop of the southern Peruvian city of Arequipa. The event took place in the San Pedro seminary with over 70 invited guests. Both maps, "Mapa del Obispado de Arequipa" and "Mapa del Obispado de Arequipa, dividido en todos sus partidos por su Gobernador Intentante D. Antonio Alvarez y Ximenez, año 1787," were acquired in the XIX century by the British Museum and Library in England.
After a welcome speech given by Head of the Seminary at San Pedro St, Father José León Chang, Consul Rainsford explained how the maps were found and what they represent to date, "I was searching for two even older maps that were stolen from the Archbishop's Archives in Arequipa in the late 1990's," he said. "It was a totally unexpected bonus when I turned up these two documents which are an important link in the socio-religious history of the city of Arequipa. It is wonderful to have copies of them once again on public display and for local historians to study."
Likewise, Alvaro Espinoza de la Borda, professor and historian at the Peruvian Academy of Ecclesiastical History, reviewed the history of the Catholic Church in Arequipa and the context in which these maps where made. After the delivery of the two antique documents to Archbishop Del Río, he gave closing remarks where he expressed his gratitude for having both maps back home.
The historic late XVIII century maps were found in late 2013 in London, where, unknown to the authorities in Arequipa, they have been stored in the archives of the British Library for more than 150 years. Thanks to the efforts of Peruvian Archaeologist Dr Alexandra Morgan –who resides in London– and Mrs Claudia Black (one of Mr Rainsford's sisters in the UK) with technical assistance by Mr Juan Roca Gamarra in Arequipa, copies of the maps have found their way back to Peru. Both documents will be displayed at the Cathedral Museum in Arequipa.
Published 14 May 2014