Arab League Resolution on Libya
In response to the Arab League resolution calling for a no fly zone over Libya, a spokesperson for the Foreign and Commonwealth Office said: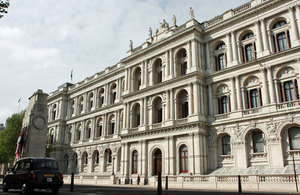 "The outcome of today's Arab League meeting shows Qadhafi's actions do not have support in the region. In brutally repressing a popular uprising by his own people, it is clear he is isolated and ignoring the will of the international community.
"We welcome the Arab League's decision to make contact with the Interim National Council. We regard the Interim National Council as valid interlocutors with whom we should work closely.
"No-fly zones (NFZs) are one option being considered as part of international contingency planning to respond quickly to events on the ground as they develop. This planning does not pre-judge any particular outcome. The Arab League call for a NFZ is very significant and provides important regional support to the option of creating a NFZ."
Published 12 March 2011