Appointments to the board of the Sea Fish Industry Authority
Professor Michel Kaiser appointed as interim deputy chair of the Sea Fish Industry Authority's management board.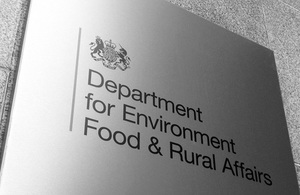 The Secretary of State for Environment, Food and Rural Affairs has appointed Professor Michel Kaiser as interim deputy chair of the Sea Fish Industry Authority's (Seafish) management board. The appointment will run until 31 March 2012.
The appointment has been made with the agreement of fisheries ministers in Scotland and Northern Ireland and the Minister for Rural Affairs in Wales.
The following appointments have also been confirmed:
Mr John Whitehead's term as interim Chair of the Seafish Board has been extended to 31 March 2012;
Mr Chris Pomfret has been appointed as an interim independent member of the Seafish Board until 31 March 2012; and
The appointments of Ms Linda Cross and Mr Mike Park have been extended until 31 March 2012.
All appointments to Seafish are made on merit and political activity plays no part in the selection process. The appointments have been made in accordance with the code of practice laid down by the Commissioner for Public Appointments.
Notes
Seafish is a levy-funded industry body which was created under the Fisheries Act 1981 with a statutory duty to promote the sustainability and efficiency of the sea fish industry as a whole. Seafish is jointly sponsored by the four UK Fisheries Administrations.
Seafish appointments attract the following fees:
Chair £51,913 per annum (average three days per week)
Deputy Chair £13,145 per annum (average four days per month)
Member £9,593 per annum (average one and a half days per month)
Biographical details
Michel Kaiser
Michel Kaiser has served on the Seafish Board for two and a half years, appointed by the Welsh Assembly Government as an independent Board member. A professor in the School of Ocean Sciences at the University of Bangor, he specialises in the field of marine benthic ecology. As a Seafish Board member he has led a number of committees including the Scallop Group, and worked with the executive to make project funding procedures more transparent.
Chris Pomfret
After graduating with a degree in Accountancy and Commerce, Chris Pomfret joined Unilever, where he remained for over thirty years. During a varied career he worked in a number of marketing and wider management roles, both on a global and regional basis, including Business director responsible for the Birds Eye business in the UK and for the `Captain Birds Eye brand across Europe. Chris left Unilever in 2004 to pursue other interests and has since has been involved in a number of non-executive roles. He is completing his second term with the Food Standards Agency where he has chaired both Risk and Audit committees.
Published 3 December 2010