Press release
Appointments maintain and enhance expertise of the Building Regulations Advisory Committee
Appointments made at committee that advises ministers on the making of building regulations and related legislation.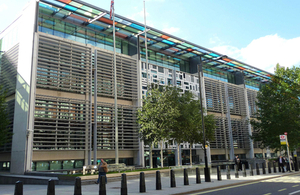 Minister for Communities Stephen Williams has reappointed Neil Cooper as the Chairman of the Building Regulations Advisory Committee for a second term of 3 years following success in a competitive recruitment exercise.
Neil has over 35 years' experience across the construction sector and is the current Chief Executive of MLM Group. He will take up post on 1 April 2015.
As part of the same campaign, the following Building Regulations Advisory Committee members have also been re-appointed to the Committee:
Peter Caplehorn - Deputy Chief Executive of the Construction Products Association
Emma Clancy - Chief Executive Officer of Certsure LLP and Ascertiva Group
Alan Crane CBE – Construction Industry Advisor and Consultant - 3C's Construction Consulting Services
Cliff Fudge - Technical Director of H&H UK Ltd
Neil Smith – Head of Research and Innovation at the National Housebuilding Council
Paul Timmins - Managing Director of Approved Inspector Services Ltd
Stephen Wielebeski – Senior Consultant to the Home Builders Federation
They will continue to bring with them their wealth of experience and expertise in their respective fields.
The Department for Communities and Local Government has also sought to enhance and refresh the expertise of the Committee through this recruitment and has appointed 5 new members:
Antony Burd – Head of Sector (Construction) British Standards Institution
Gavin Dunn – Director of BREEAM (Building Research Establishment Environmental Assessment Method), Buildings Research Establishment
Julia Evans - Chief Executive of the Building Services Research & Information Association
Gary Ferrand – Assistant Chief Fire Officer at East Sussex Fire and Rescue Service
Rachel Smalley – President of the Access Association
About the Building Regulations Advisory Committee
The Building Regulations Advisory Committee is an advisory non-departmental public body that advises the Secretary of State and other ministers on the making of building regulations and related legislation. Both the Chairman and the members are non-remunerated and appointed to provide advice and input from their particular areas of expertise and experience.
Recent examples of the work of the Committee are advising on the development of the housing standards review and the zero carbon and allowable solutions policy.
Office address and general enquiries
2 Marsham Street
London
SW1P 4DF
Contact form http://forms.communiti...
General enquiries: please use this number if you are a member of the public 030 3444 0000
Published 27 March 2015