Press release
Appointments made to NHS property services limited
NHS Property Services Limited (NHS PS), the company set up by the Department of Health to manage all the ex-PCT estate not transferred to providers, has recently made a number of appointments to senior roles within the company.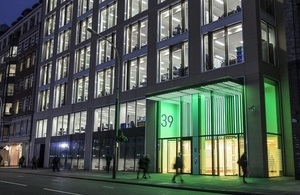 Charles Howeson has been appointed non Executive Chairman and Simon Holden has been appointed as Chief Executive. A number of other senior appointments have also been made to the company including the appointment of four Regional Directors:
James Wakeham - Regional Director South
Tony Griffiths - Regional Director London
Martin Royal - Regional Director Midlands and East
Kathryn Berry - Regional Director North
In addition, Caroline Rassell has been appointed as Finance Director, Pam Chapman as Director of Asset Management and Alan Farmer as head of HR to lead all the staff transition work as the company prepares to become fully operational in April 2013. These three posts are on a secondment basis.
Further announcements about the company, including further senior appointments, will be made over the coming months.
As Chair, Charles brings long experience to the role having worked in both property and the public sector, and has served as Chairman for a number of different organisations. Most recently Charles was Vice Chair of NHS South of England having stepped down from that role at the beginning of July.
Simon is joining from NHS Cheshire, Warrington and Wirral where he was Director of Finance and Deputy Chief Executive.
Peter Coates CBE, Commercial Director at the Department of Health said:
"I am delighted to welcome all appointees to their new roles. Charles brings a wealth of experience to this post and will guide NHS PS towards meeting the organisational challenges of delivering estate management to the NHS. Simon and the rest of the team are highly experienced in managing property for the NHS and have a blend of skills ideally suited to taking this new venture forward."
Charles Howeson commented:
"It is an exciting time to be joining NHS PS and I want to welcome all my fellow new appointees. I look forward to working with them, the rest of the team, the Board and Shareholders to grow and improve NHS PS, and to seeing it deliver the best possible service to NHS clients."
 
Notes to Editors:
For press enquiries contact the Department of Health press office on 0207 210 4939.
Out of hours duty press officer number is 07050 073 581 and is in operation from 19:00 - 08:00 and on weekends.
Appointments Made To NHS Property Services
Charles Howeson - Chair
Charles was appointed as Chair to the South West Strategic Health Authority in September 2009. He has now stepped down from this position to take up his new post at NHS PS. Charles was educated at Uppingham and the Royal Naval College, Dartmouth. He served in the navy from 1968 to 1990, retiring at the rank of commander, and now holds the rank of captain in the Royal Naval Reserve.
Simon Holden - Chief Executive
Simon is currently the Finance Director for NHS Cheshire, Warrington and Wirral. He began his career at Blackpool Victoria Hospital in 1983 as an Office Junior, and experienced many different arms of the NHS across the North West including Tameside & Glossop NHS Trust, Warrington Health Authority and Crewe Health Authority, whilst studying for his professional finance qualifications. He qualified as a Chartered Certified Accountant in 1995, and subsequently became a Fellow of the Chartered Association of Certified Accountants in 2000.
Caroline Rassell - Director of Finance
Caroline is currently Chief Strategy Officer at Community Health Partnerships and is seconded to NHS Midlands and East. Prior to joining CHP, Caroline worked in a number of PCTs as a Director of Finance and Director of Commissioning. Before joining the NHS, she worked for 15 years in local government.
Kathryn Berry - Regional Director (North)
Kathryn is currently Associate Director, Capital, Investment and PFI at NHS North West. Kathryn has worked in the NHS and local authorities since 1981. She has worked in clinical and managerial positions across the country in acute, community and mental health services.
Martin Royal - Regional Director (Midlands & East)
Martin is currently Director of Business Development and External Relations at NHS Suffolk. For over 18 years, he served as an army officer before entering the NHS. Martin has worked in high security psychiatric services in Merseyside and in various posts across Essex and was also a Director at the Suffolk Mental Health Partnership NHS Trust.
James Wakeham - Regional Director (South)
James is a Management Consultancy Chartered Surveyor with an MA(dist.) in Management with over 20 years experience working in property. James is currently responsible for a large and complex estate in Cornwall and the Isles of Scilly including LIFT, PFI and community premises. Previously, James gained experience working in local government in estates, property law and town planning where he carried out Peer Reviews and has engaged in a series of large scale transitions. James also has experience of property working within the private sector
Tony Griffiths - Regional Director (London)
Tony is currently Head of Strategic Asset Management at NHS South West London, since the PCT cluster formed in March 2011. Previously he was joint Chief Operating Officer of the Support Service Partnership in South West London, providing hard and soft facilities management services and estates advice to PCTs, and before that Project Director for the PFI scheme at Queen Mary's Roehampton. He is a Chartered Engineer and a qualified project director under the NHS scheme.
Alan Farmer - HR Lead
Alan has been Director of Workforce at NHS Hertfordshire since January 2011.  Alan has significant experience in the NHS, local government and the private sector, most recently in an acute hospital setting.
Pamela Chapman - Director of Asset Management
Pam is the Department's policy lead on the PCT estate programme and was previously Head of Strategic Asset Management. She is a Chartered Surveyor, with a background in estate management and has been seconded into the company to provide support and continuity during the transition period.
Published 7 August 2012