News story
Appointment of the new Director General of the Security Service
Andrew Parker has been named as the new head of MI5.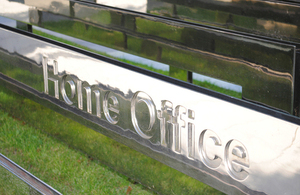 The current Deputy Director General of the Security Service (MI5), Mr Parker has been appointed as successor to Sir Jonathan Evans, Home Secretary Theresa May announced today, with the agreement of the Prime Minister.
Mr Parker has worked for the Security Service for more than 30 years and has been in his current role since 2007. He will take over from Sir Jonathan Evans when he retires in April.
Home Secretary, Theresa May said:
I am very pleased to announce the appointment of Andrew Parker as the new DG of the Security Service, a role to which he brings a wealth of experience and knowledge. Under his leadership the Service will continue to stay ahead of global and domestic threats to our national security and further develop its reputation as one of the world's most effective security agencies.
I also pay tribute to the work of Sir Jonathan Evans who has led the Service through challenging times of change and unrest, including in the aftermath of the 7/7 London bombings. His tireless work also helped ensure the delivery of a safe and successful Olympic and Paralympic Games last year.
Commenting on his appointment, Mr Parker said:
It is a great honour to be appointed Director General of MI5. I am extremely proud of the extraordinary work the men and women of MI5 do to keep the country safe in challenging circumstances. I look forward to leading the Service through its next chapter.
The Cabinet Secretary, Sir Jeremy Heywood, said:
I am delighted Andrew has been appointed as Director General of the Security Service, having been Deputy Director General since 2007. He brings his deep knowledge and experience of all aspects of the Service and its operations to this role and will be a great leader of the Service, working collaboratively with its partners. I look forward to working with him in his new role. I would also like to pay tribute to the outstanding way in which Jonathan Evans has led the Service since 2007 and I wish him all the very best for the future.
Mr Parker will take up his new post on 22 April.
A detailed biography of Andrew Parker can be found on the Security Service website.
Published 28 March 2013