Appointment of the chair and nine new members to the Advisory Council on the Misuse of Drugs
A new chairperson and nine new members have been appointed to the Advisory Council on the Misuse of Drugs (ACMD) Minister for Crime Prevention James Brokenshire announced today.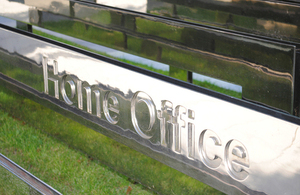 The new appointees are:
Chair, Professor Les Iversen, pharmacologist and emeritus Professor at the University of Oxford
Ms Annette Dale-Perera, Strategic Director of Addiction and Offender Care, Central and North West London NHS Foundation Trust;
Dr Paul Dargan, Consultant Physician and Clinical Toxicologist, Guy's and St Thomas' NHS Foundation Trust and Reader in Clinical Toxicology, King's College London
Ms Sarah Graham, Director, Sarah Graham Solutions
Judge Kyrie Ll James, First Tier Tribunal (Immigration & Asylum Chamber)
Mr Nigel Kirby, Branch Head (Drugs and Firearms), Serious and Organised Crime Agency (SOCA)
Mrs Jo Melling, Director, Oxfordshire Drug and Alcohol Action Team (DAAT)
Dr Hans-Christian Raabe, General Practitioner, Manchester
Professor Fabrizio Schifano, Chair of Clinical Pharmacology and Therapeutics  at the University of Hertfordshire and Consultant Psychiatrist  in addictions at Hertfordshire Partnership NHS Foundation Trust
Dr Harry Sumnall, Reader in Substance Misuse, Centre for Public Health, Liverpool John Moores University
Minister's statement
Minister for crime prevention James Brokenshire said: 'I am pleased to welcome the chair and new members to the Advisory Council on the Misuse of Drugs and look forward to working with them over the coming years.
'As we made clear in the 2010 Drug Strategy, high quality advice in this field is essential. The ACMD is an integral and valuable part of the Government's approach to tackling the harms caused by drug misuse.
'We are committed to ensuring it remains an independent body with a broad, robust skill base, representing expertise in science, enforcement, health and drug treatment, and social policy.
'The independent advice provided by the ACMD helps to protect us from the real dangers posed by illicit drug use.'
The appointments will be for a period of three years, are unpaid and have been made in accordance with the Code of Practice of the Commissioner for Public Appointments (OCPA).
Notes to editors
1. All appointments are made on merit and political activity plays no part in the selection process.  However, in accordance with the original Nolan recommendations, there is a requirement for appointees' political activity (if any declared) to be made public. (Dr Hans-Christian Raabe declared political activity, standing in 2009 as MEP candidate in the North West region for the Christian Party/Christian Peoples Alliance Party).
2. A board comprising representatives from the Home Office, the ACMD and an independent OCPA assessor recommended appointments which were approved by the Home Secretary and James Brokenshire.
Membership of the ACMD now stands at 25. Legislation requires a minimum of 20 members for the Council to function. Members are appointed on an individual basis and not as representatives of the organisations for whom they work.
4. Professor Les Iversen has been the interim chairperson of the ACMD since January 2010. 
5. The ACMD was established under the Misuse of Drugs Act 1971. It is the duty of the ACMD to keep drugs misuse in the United Kingdom under review and to advise the Government on measures for preventing misuse and social problems arising from it.
More information about ACMD can be found on the Home Office website at www.homeoffice.gov.uk/drugs/acmd
7. Information on the Misuse of Drugs Act 1971 can be found online at www.homeoffice.gov.uk/drugs/drugs-law
8. The current list of ACMD members can be found online at www.homeoffice.gov.uk/drugs/acmd/about-us/committees-and-members/list-members
9. For further information please contact Home Office Press Office on 020 7035 3535.
Published 19 January 2011