Appointment of Judicial Appointments and Conduct Ombudsman
Appointment of Mr Paul Kernaghan as the Judicial Appointments and Conduct Ombudsman.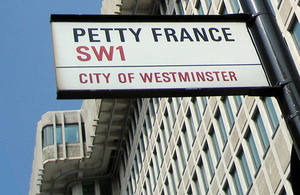 The Lord Chancellor, the Rt Hon Michael Gove MP, is pleased to announce the appointment by Her Majesty the Queen of Paul Kernaghan as the Judicial Appointments and Conduct Ombudsman (JACO).
This appointment will run for 5 years from 26 January 2016 and follows an open recruitment campaign, regulated by the Commission for Public Appointments.
The Ombudsman provides an independent 'second tier' investigation function in the handling of complaints involving judicial discipline or conduct, or the judicial appointments process (the Judicial Conduct and Investigation Office, and the Judicial Appointments Commission respectively, handle the 'first tier' investigations). The position is a statutory office established by the Constitutional Reform Act 2005.
The JACO leads a small team of caseworkers to research and identify issues in these cases, the majority considering questions of process and fact before producing final reports and recommendations. There is no formal right to appeal the Ombudsman's decisions, which are sanctioned by the Lord Chancellor and the Lord Chief Justice.
Mr Kernaghan is the House of Lord's Commissioner for Standards and will stand down in May 2016. He is also an independent member of the Civil Nuclear Police Authority and a member of the Armed Forces Pay Review Body. He has had a distinguished career in the police service, most recently as Chief Constable for Hampshire (1999-2008) during which he served as chair of the Association of Chief Police Officer's International Affairs Committee.
In 2009 Mr Kernaghan led the European Union Co-ordinating Office for Palestinian Police Support mission to assist the Palestinian criminal justice system. He was awarded the Queen's Police Medal for distinguished service in 1998 and the CBE in 2005.
Published 28 January 2016