World news story
Apply for 2015 Youth Mobility Scheme Certificates of Sponsorship
This was published under the 2010 to 2015 Conservative and Liberal Democrat coalition government
Hong Kong Labour Department accepting applications for Certificates of Sponsorship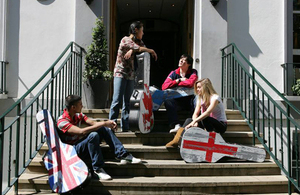 From 23 February to 6 March 2015, the Hong Kong Labour Department will be accepting applications for Certificates of Sponsorship for the Youth Mobility Scheme.
The Youth Mobility Scheme allows young people aged between 18 and 30 to live, work or study in the UK for up to 2 years.
British Consul General to Hong Kong and Macao Caroline Wilson said:
The UK/Hong Kong Working Holiday Scheme is now in its second year. We've been glad to see HKSAR passport holders respond to it enthusiastically. We look forward to welcoming more young Hong Kong people to the UK to broaden their horizons, as well as seeing more young Brits coming to Hong Kong.
From 2014, up to 1,000 HKSAR passport holders can qualify for the Youth Mobility Scheme each year. HKSAR passport holders need a Certificate of Sponsorship to apply for the Youth Mobility Scheme.
For further information on eligibility and how to apply for a certificate of sponsorship please visit the Hong Kong Labour Department website where you can download the application form. Information on the Youth Mobility Scheme can be found at here.
Further information
British National (Overseas) passport holders are already eligible to apply for a visa under the Youth Mobility Scheme to the UK and are not subject to any quota or sponsorship requirements.
Document information
Published: 9 February 2015