News story
Applications open for 2014 English for the Future programme
British Embassy Seoul welcomes North Korean defectors' applications for the 3rd English for the Future programme.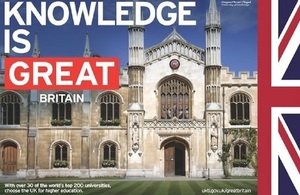 The British Embassy Seoul is re-launching its successful English for the Future programme. 2014 marks the 3rd year of the scheme. English for the Future provides free English training at the British Council for up to one year for North Korean defectors in South Korea. Current sponsors of the programme are the British Embassy Seoul, the British Council, Korea Investment & Securities, the Ministry of Unification and Pony Chung Foundation. A total of 168 North Korean defectors benefitted from English for the Future in 2011 and 2012.
British Ambassador Scott Wightman said:
I am delighted we are working with our partners to run this scheme for a third year. English for the Future provides a fantastic opportunity for North Korean defectors to develop their English skills and boost their employment prospects in an increasingly competitive marketplace. We look forward to working with this year's students and supporting their integration into South Korean society.
Selected students will participate in English courses at the British Council from January – December 2014. Internship positions will be offered to those who qualify. One participant on the English for the Future programme will be offered the chance to apply for a Chevening Scholarship to undertake a Masters course in the UK in the 2015/16 academic year.
More detailed information on the course timetable is available at www.britishcouncil.kr.
North Korean defectors aged 18 years or over can apply for the programme. Please send any enquiries or applications to Maria Jun at the British Embassy (Maria.Jun@fco.gov.uk). Applications are welcome now and will close when all spots are filled.
Published 30 December 2013