World news story
Applications for Chevening Scholarships open 3 August in Thailand
The Chevening Secretariat is accepting applications for 2016/2017.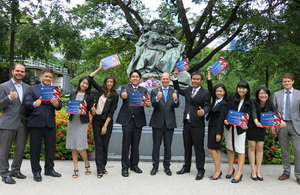 Chevening Scholarships can be applied for via www.chevening.org/apply from 3 August until 3 November 2015.
The priority subject areas for Thailand in 2016/2017 are: democracy, governance and human rights; conflict issues; human trafficking and migration; climate change and energy; and trade and investment and economic governance.
Chevening Scholarships are awarded to individuals with strong academic backgrounds who also have demonstrable leadership potential. The scholarship offers financial support to study for a Master's degree at any of the UK's leading universities and the opportunity to become part of an influential global network of 44,000 alumni.
Globally, there are approximately 1,500 Chevening Awards on offer for the 2016/2017 academic cycle with 30 of these allocated to applications from Thailand. These scholarships represent a significant investment from the UK Government to develop the next cohort of global leaders.
Chevening Secretariat Director, Michael Scott-Kline, said:
A Chevening Scholarship is a mark of honour bestowed on individuals who have been identified as having the qualities to become highly influential global leaders. Not only do award recipients receive a first-rate UK education, through Chevening they join a vibrant community of Chevening Alumni, Foreign and Commonwealth Office staff, UK universities, and partner organisations. Chevening Award recipients will draw on and contribute to this community for the rest of their lives. I am delighted to announce the opening of the 2016/2017 competition for Chevening Scholarships. I strongly encourage emerging and established leaders to make an application – it may be the best decision you ever make.
Being a Chevening Scholar marks you out as someone with drive and ability. It offers you a unique opportunity to gain academic experience and at the same time to broaden your global and social outlooks. Above all, it empowers you with a sense of pride and responsibility.
Further information
Chevening Scholarships are the UK Government's global scholarship programme, funded by the Foreign and Commonwealth Office (FCO) and partner organisations. The scholarships support study at UK universities – mostly one year Master's degrees – for individuals with demonstrable potential to become future leaders, decision-makers, and opinion formers.

The scholarship covers a monthly allowance; travel costs to and from the UK, academic fees, arrival allowance, a thesis grant, and an excess baggage allowance. To be eligible for the Chevening Scholarship programme in Thailand, you must:

be a Thai citizen,
intend to return to Thailand after your studies;
hold a degree that is equivalent to at least an upper second-class honours degree in the UK (GPA 3.0);
have completed at least two year's work or equivalent experience before applying;
be able meet the Chevening minimum English language requirement (IELTS 6.5);
be able to obtain the correct visa, and

receive an unconditional offer from a UK university.

Chevening began in 1983 and has developed into a prestigious international awards scheme. Chevening Scholars come from over 160 countries and territories worldwide (excluding the USA and the EU), and over 1,500 scholarships were awarded in 2015/2016. There are over 44,000 Chevening Alumni around the world who comprise an influential and highly regarded global network.

More information is available at www.chevening.org
Published 30 July 2015