World news story
Applications for 2016/2017 Chevening Scholarships now open in China
Applications for Chevening, the UK Government's scholarship programme, open on 3 August in China and across the world.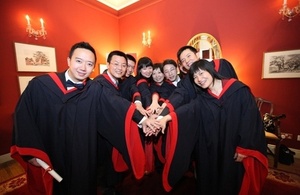 Chevening Scholarships are accepting applications for 2016/2017 via www.chevening.org/apply from 3 August until 3 November 2015.
Chevening Scholarships are awarded to individuals with strong academic backgrounds who also have demonstrable leadership potential. The scholarship offers financial support to study for a Master's degree at any of the UK's leading universities and the opportunity to become part of an influential global network of 44,000 alumni.
There are approximately 1,500 Chevening Awards on offer for the 2016/2017 academic cycle. These scholarships represent a significant investment from the UK Government to develop the next cohort of global leaders.
British Ambassador Barbara Woodward said:
It is with great pleasure that I announce the opening of the 2016/2017 competition for Chevening Scholarships in China. Chevening scholarships are highly competitive and are awarded to individuals who are expected to become influential global leaders.

Some of our most distinguished Chinese alumni have made their way to the top leadership of the State Administration of Taxation, Guangzhou Municipal Government, Qinghai Provincial Government, the All China Federation of Taiwan Compatriots, and the Industrial and Commercial Bank of China. There have also been 9 current or former heads of state out of Chevening alumni globally.

A Chevening Scholarship means not only a first-class UK education but also access to a vibrant community of Chevening alumni, Foreign and Commonwealth Office staff, UK universities, and partner organisations. I very much hope that you will consider the immense benefits of a Chevening scholarship and submit an application.
Chevening Alumnus Nart Dohjka from Jordan said:
Being a Chevening Scholar marks you out as someone with drive and ability, and also as someone who wants to contribute to the development of your country. It offers you a unique opportunity to gain academic experience and at the same time to broaden your global and social outlooks. Above all, it empowers you with a sense of pride and responsibility.

I believe that the role of Chevening Scholars is very important in building bridges between their home countries and the UK as Chevening Scholars learn how to be ambassadors for knowledge and for leadership.'
More information
Visit www.chevening.org and www.cheveninginchina.cn for detailed information on the eligibility criteria and award specifications.
For further information, please contact: Chevening.Beijing@fco.gov.uk
Published 4 August 2015