World news story
Applications for 2015/16 Chevening Scholarships now open in Morocco and Mauritania
Chevening Scholarships, which are funded by the UK Government, will support students from Morocco and Mauritania who wish to study for a Masters in the UK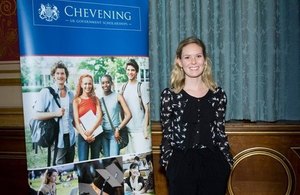 Applications for Chevening Scholarships, the prestigious global scholarship programme of the UK government, are now open.
The Scholarships, which are funded by the UK Foreign and Commonwealth Office (FCO) and partner organisations, operate in over 100 countries worldwide, and this year will support about 600 students. The Scholarships are awarded to exceptional individuals with leadership potential, who wish to study for a one-year Master's degree at any British university, starting in September 2015.
The Scholarships aim to support UK foreign policy priorities by creating lasting positive relationships with future leaders, influencers and decision makers around the world. Chevening alumni have an excellent record of rising to positions of leadership across a wide range of fields: including politics, business, the media, civil society, religion, and academia.
The successful candidates from Morocco and Mauritania will be personally selected by the British Embassy in Rabat. The Embassy is looking for applicants who wish to study in one of the following areas:
Economic development (including sustainable development and environmental issues)
Good governance and transparency
Security and justice
Human rights
Media and communications
International relations
The UK Foreign and Commonwealth Office said:
'The Chevening programme provides a unique opportunity for leaders of the future to build a global network of continuing professional significance. It enables talented individuals to establish social, cultural, academic or commercial partnerships with the UK. We hope that this year's Chevening Scholarships will continue to attract the very brightest and best.'
For more information on how to apply, candidates should visit: www.chevening.org/morocco. http://www.chevening.org/mauritania/
The closing date for applications from Morocco and Mauritania will be 15 November 2014.
About Chevening Scholarships
Chevening Scholarships are the UK government's global scholarship programme, funded by the Foreign and Commonwealth Office (FCO) and partner organisations. The Chevening programme began in 1983 and has developed into a prestigious international scheme. Scholars come from 116 countries worldwide and 600 scholarships were awarded in 2011-2012. There are over 41,000 Chevening alumni around the world who together comprise an influential and highly regarded global network. 150 talented Moroccans have benefitted from the programme since 1983.
Published 8 August 2014