APHA announces new post mortem examination expert provider for Wales
APHA has awarded the contract for the provision of subsidised PM examinations in Wales to Iechyd Da, a consortium of independent veterinary practices based in Wales.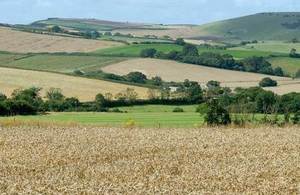 The new service will be introduced in stages. Initially there will be a post-mortem examination (PME) service covering locations within an hour's journey time from the former APHA Aberystwyth Veterinary Investigation Centre.
A carcase collection service will then be introduced for North Wales, followed by a combination of carcase collection and PME satellite sites for remaining areas, to be determined after consultation with vets in the area. Further details will be published in early 2015.
Iechyd Da will work in collaboration with Aberystwyth University from the former APHA Veterinary Investigation Centre facility in Aberystwyth. They will be available to support veterinary businesses in Wales in their diagnostic work from early 2015.
They will also form part of an enhanced scanning surveillance network which includes APHA, the wider veterinary profession and the livestock industry.
Rebecca Evans, Welsh Government Deputy Minister for Farming and Food, said:
"The award of this contract to Iechydd Da is excellent news as it enhances disease surveillance in Wales. This announcement will mean that private vets and farmers will have better access to post mortem examination and diagnostic services.
"As demonstrated by the recent avian flu outbreak, there are constant threats to animal health and having improved coverage will strengthen surveillance here in Wales and will help to detect and manage these risks."
Vets wishing to submit a carcase must first discuss this with the post mortem facility. A disposal fee will be charged for any carcases received without prior agreement. Postal submissions should continue to be sent to APHA's laboratory at Shrewsbury.
Since the closure of APHA's Aberystwyth site on 31 August 2014, carcases have been delivered to a collection centre at Lampeter (or collected on farm depending on the farm's location) after discussion with the duty Veterinary Investigation Officer at APHA Carmarthen. This arrangement will continue until the new service is operational.
From early 2015 carcases from premises within one hour's travel of Aberyswyth will need to be delivered to the post-mortem facility at Aberystwyth. Iechyd Da is in the process of establishing a carcase transport service for a wider area to include North Wales.
APHA yn cyhoeddi darparwr archwiliadau post mortem arbenigol newydd i Gymru (PDF, 152KB, 3 pages)
Published 19 December 2014