Annual review of the National Action Plan on Women, Peace and Security
Foreign Office Minister Mark Simmonds has made a statement on the second Annual Review of the UK Government National Action Plan on Women, Peace and Security, which was laid to Parliament today.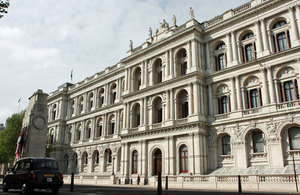 Mr Simmonds said:
I wish to inform the House that the Foreign and Commonwealth Office, together with the Ministry of Defence and the Department for International Development, is today publishing the second Annual Review of the UK Government National Action Plan on UNSCR 1325 Women, Peace and Security.The National Action Plan is intended to strengthen our ability to reduce the impact of conflict on women and girls, and to promote their inclusion in conflict resolution. It provides a plan for incorporating the provisions of UN resolutions on Women, Peace and Security into the Government's work on conflict in our defence, diplomatic and development activity.
I have chosen to publish the review today to coincide with the anniversary of the UN Security Council resolution 1325 which was adopted twelve years ago, 31 October, in 2000.The Review that I am announcing today focuses on our new actions this year.
UN Security council resolution 1325 called for the effective protection of women from sexual and gender-based violence in conflict.But despite numerous efforts since its adoption shocking levels of violence continue with very few perpetrators being held to account.This culture of impunity exacerbates the cycle of sexual violence, fuelling increased ethnic, sectarian and other divisions, further entrenching conflict and instability.
The Foreign Secretary is determined that governments must do more to address this issue and that the UK, with its global reach, resources and diplomatic network, champions this cause.On 29 May the Foreign Secretary launched his Preventing Sexual Violence Initiative.
The Initiative aims to replace the culture of impunity with one of deterrence, by increasing the number of perpetrators brought to justice both internationally and nationally, by strengthening international efforts and co-ordination to prevent and respond to sexual violence and by supporting states build national capacity.
During the UK's Presidency of the G8 we will run a sustained campaign to build a stronger global partnership to prevent sexual violence in conflict.Our objective will be to secure a range of new commitments from G8 nations, and to broaden these beyond the G8 over time.We are also assessing the need for a new international protocol on the investigation and documentation of sexual violence in conflict.
In addition, we have recruited and will deploy a specialist team of UK experts to conflict areas to support the UN and civil society to investigate allegations of sexual violence, gather evidence and help countries build their own capacity to do so.We intend to work in close coordination with the United Nations and civil society in taking forward this initiative.
Finally, we have increased our funding to the UN Secretary-General's Special Representative on Sexual Violence in Conflict by £1 million to support their efforts to strengthen national capacity to investigate, prosecute perpetrators of sexual violence and to protect survivors and witnesses.
This major new initiative is fully integrate with our work to implement the national, bilateral, regional and multilateral commitments in the National Action Plan.This includes our country plans in Afghanistan, Nepal and Democratic Republic of Congo and our new Middle East and North Africa regional plan.We continue to encourage more states to develop National Action Plans.
We are grateful to the Associate Parliamentary Group on Women, Peace and Security (APG WPS) for their active engagement on this important issue.We would also like to thank the civil society umbrella organisation Gender Action for Peace and Security (GAPS) for the regular and ongoing consultations that take place about the NAP.Officials will attend a meeting with the Associate Parliamentary Group and GAPS on 5 November to discuss this review.
We will continue to consult with Parliament and civil society, including in 2013 when a full evaluation of the National Action Plan will take place.
We look forward to continuing to work with Parliament, Civil Society, and with our international partners to lead effective action to tackle the disproportionate impact of conflict on women.
I have deposited a copy of the annual review in the Libraries of both Houses. It is also available on the FCO website.
Published 31 October 2012