News story
Annual results of Britain's international development investment
Results of DFID's work saving lives, creating jobs and building economies published in annual report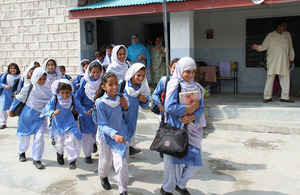 UK investment in overseas development is saving lives, creating jobs, building economies and ultimately helping create a safer and more prosperous world, the Department for International Development's Annual Report confirms today.
DFID's Annual Report and Accounts for 2012-2013 shows that a clear focus on results, transparency and accountability has enabled the department to achieve impressive results and deliver value for money for British taxpayers.
In the last year DFID has:
Helped 1.4 million farmers to raise their collective income by over $127 million over the course of several years of market development and financial services programmes.
Worked with other governments and institutions to improve tax systems, including in Burundi where tax revenues have been increased by 100% since 2010 with the support of Trademark East Africa.
Provided immediate lifesaving support for up to 2 million people in Haiti, and emergency shelter and relief to 20,000 people in Cuba in the wake of Hurricane Sandy in October 2012.
Created almost 10,000 jobs in livestock production, fisheries and agriculture in Somalia.
Saved the taxpayer £62.5 million in rents and overheads between now and 2020 by moving from rented offices next to Buckingham Palace to an empty government freehold building on Whitehall.
Secretary of State for International Development Justine Greening said:
What happens across the world matters more to us than ever before and the last year has been an important one for international development. UK investment overseas has transformed the lives of millions for the better and, by investing in jobs, opportunities and peace, we have moved one step closer to ending aid dependency and creating the world we strive for. International development is in our national interest and is both the right thing and the smart thing to do. But we must invest the development budget wisely if we are to achieve our goals. So as we reach the 0.7% target for the first time ever, I am more determined than ever to get good value and results for taxpayers' money.
A drive for even greater transparency in the UK's overseas development is also highlighted by the report, which sets out how DFID has ensured value for money and effectiveness in its work. Over the last year the department has introduced tighter ministerial control over spending decisions, demanded better value from its suppliers and introduced tough new anti-corruption and counter fraud strategies.
With 2 years left to achieve the Millennium Development Goals (MDGs), the report also reflects the department's priorities as we approach that milestone. Looking ahead to the coming years, there will be an even greater focus on 3 key areas.
Girls and women: no country can properly develop if half of its population is being left behind.
Economic development: we want to end aid dependency through jobs.
Humanitarian support: DFID's first responsibility will always be to save lives under imminent threat.
Related Links
Published 27 June 2013