World news story
Announcement of the UK's first ever Energy Investment Report
On 17 July, the Secretary of State for Energy & Climate Change, Ed Davey, announced the publication of the UK's first ever Energy Investment Report.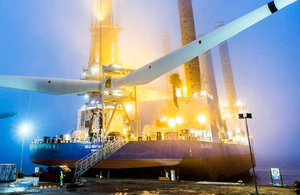 The report sets out the £200bn of investment required in the UK by 2020, across all energy sectors, and breaks down the requirements for each specific sector. For example, it highlights that in the electricity sector alone, £100bn of investment will be needed by 2020.
The report also highlights the success that EMR is having at attracting investment into UK energy sectors, including from Japan. In 2013 a record £8bn was invested in renewable energy alone, up from £3bn in 2010. Between 2010 and 2013, a total of £45bn was invested electricity generation and networks, with a significant portion of that coming from new market entrants from countries like Japan.
This investment forms a core part of the UK's decarbonisation and energy security objectives, and will further underpin economic growth in the UK, in particular by generating around 250,000 additional jobs by 2020. Shale Gas and Oil could support an additional 60,000 jobs.
Japan is already playing a crucial role in the development of the UK's energy infrastructure, and the Government is committed to supporting this partnership to grow further. Toshiba's recent acquisition of NuGen gives it a significant presence in the UK's new nuclear programme alongside Hitachi, and means it can be added to the growing list of Japanese companies playing critical roles in the UK's energy transformation – such as Marubeni and Mitsubishi Corporation's activities in the UK offshore wind programme. We warmly welcome this partnership, and stand ready to provide any assistance we can to strengthen these ties further.
Please contact Mark Hastie-Oldland, Energy & Infrastructure Investment Specialist in UK Trade and Investment, Tokyo
Related links
Published 22 July 2014