Animal medicines seizure notice: Cambridge Cavy Trust
Details of the seizure notice issued to Cambridge Cavy Trust, Huntington, Cambridgeshire, published in December 2017.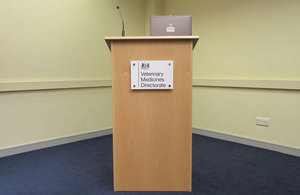 Approximately 50 products were seized as they were intended for supply and administration to animals by a person not authorised to do so. These products included authorised Prescription Only Medicines (POM-V and POM-VPS) as well as human products and unauthorised veterinary medicinal products.
The supply and administration of these products is an offence under Regulation 8 (Administration of the product), Regulation 26 (Possession of an unauthorised veterinary medicinal product) and Schedule 3, paragraph 3 (Retail supply of veterinary medicinal products) of the Veterinary Medicines Regulations 2013.
This seizure is linked to the improvement notice issued at the same time.
Published 21 December 2017