News story
Animal medicines improvement notice: Paynes Southdown Bee Farms
Details of the improvement notice issued to Paynes Southdown Bee Farms. Published in March 2016.
This news article was withdrawn on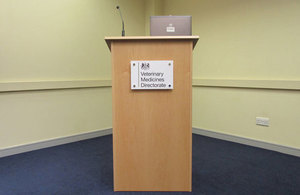 Paynes Southdown Bee Farms, Hassocks, West Sussex. Apiguard was being presented for sale in 3kg tubs which are not authorised for use in the UK.
Also, unauthorised veterinary products were being presented for sale with claims to treat or prevent disease. These are offenses under Regulation 4 (Placing a veterinary medicinal product on the market) of the Veterinary Medicines Regulations.
The improvements are to:
cease marketing and sale of the 3kg Apiguard tubs from the UK market
remove all medicinal claims presenting products to treat or prevent disease from the Paynes Bees Farm website and from any other Paynes Bee Farm marketing material. This includes publicity via social media, leaflets, in store advertising, product descriptions and customer testimonials
This notice has been complied with
Published 11 March 2016