News story
Animal medicines improvement notice: G.T Farm Supplies
Details of the improvement notice issued to G.T Farm Supplies, Ballymena, County Antrim issued in September 2016.
This news article was withdrawn on
Withdrawn as item over a year old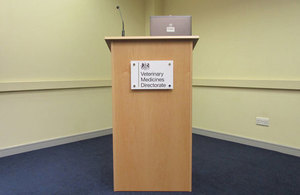 Supplies of POM-VPS medicines occurring from outwith the registered premise, namely from a trailer unit. This breaches the Veterinary Medicines Regulations, Schedule 3, paragraph 14 (4) – Supply by a suitably qualified person.
Evidence showed stock within the trailer unit did not have sales documentation to show that the supply occurred at the registered premise and order sheets provided did not correspond with stock seen.
Improvements are for procedures and documentation to be put in place to demonstrate that supply only occurs at the registered premises and no POM-VPS stock to be carried in the trailer unless accompanied by a delivery note.
This Notice has been complied with
Published 23 September 2016
Last updated 25 October 2016
+ show all updates
This Notice has been complied with
First published.