News story
Animal medicines improvement notice: APG Supplies & Services
This news article was withdrawn on
Withdrawn as item over a year old
Details of the improvement notice issued to APG Supplies & Services, County Fermanagh issued in September 2016.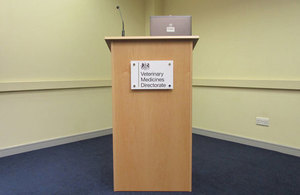 For failure to maintain the retail premise on the register of approved retailers of veterinary medicinal products, contrary to the Veterinary Medicines Regulations.
The annual fee was due in May. Despite numerous reminders and re-issues of the invoice, payment has not been received. Retail sale of POM-VPS medicines has continued at the premise.
Premise to restore to the register of retailers, or to cease the supply of veterinary medicines and to provide evidence that the sales have ceased and all POM-VPS stock removed.
This Notice has been complied with
Published 5 September 2016
Last updated 24 October 2016
+ full page history
This Notice has been complied with
First published.