World news story
Anglo-Dutch Offshore Wind seminar in The Hague
The UK Government has stated that around £200bn of investment is needed in renewable energy by 2020.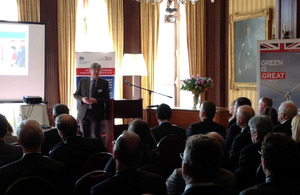 A significant proportion of this amount needs to come from offshore wind.
It was against this backdrop then that the Investment Team in the Netherlands held an Anglo-Dutch Offshore Wind seminar on 21 March in The Hague with help from UKTI HQ and the Netherlands Wind Energy Association. This event was attended by around 60 specialists in this field, mostly from Dutch offshore wind supply chain companies.
Subject matter experts from both countries, including Huub den Rooijen, Head of Offshore at the Crown Estate and representatives from the Centres for Offshore Renewable Engineering (COREs), outlined the existing and future opportunity for these companies.
After the morning presentations, the speakers and representatives of the UK centres of excellence for offshore wind were kept busy with back to back meetings with prospective clients.
Alistair Ward from UKTI Netherlands, who organised the seminar, said 'This was a very successful and productive event, with great feedback received from all parties, and which will also result in some interesting projects.'
For more information, please contact alistair.ward@fco.gov.uk .
Published 26 March 2013