Press release
Anglers' joy as grayling return to Leicestershire river
Anglers on the River Sence in Leicestershire are excited after catching a species of fish which disappeared from the area over 40 years ago.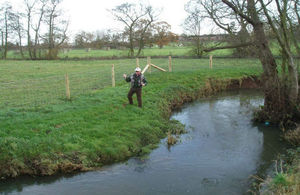 Grayling are now returning to the River Sence near Ibstock thanks to a series of improvement projects carried out by the Environment Agency, Gopsall Fishing Club, the Wild Trout Trust, the Grayling Society and other partner organisations in the local area. These works have significantly improved the quality of the water in the River Sence and improved the fish's natural habitat – encouraging them to migrate and spawn.
The improvement works involved creating fish spawning areas and designing new channels to enable fish to migrate around impassable weirs. Large woody debris was also added to help prevent silt from building up in the river – by varying the river flow and keeping the gravel clean to encourage fish to spawn. 3km of fencing was erected to prevent livestock from entering the river and prevent over grazing on the river banks.
From 2006 to 2010 the Environment Agency worked alongside Gopsall Fishing Club and the Grayling Society to kick start the grayling population by stocking over 8,500 grayling – reared at the Environment Agency's fish farm at Calverton.
Tom Astley, Environment Agency, said:
We're delighted to see that the fish we stocked with Gopsall Fishing Club, the Wild Trout Trust and the Grayling Society have reached maturity and are now spawning in the river. We hope that over time the grayling population in this area will go from strength to strength. This is a great example of one of the many projects we deliver as a result of rod licence fee funding. It is part of our nationwide aim to conserve and improve wild stocks of trout, sea trout, char and grayling - whilst also enhancing the environment for all types of fisheries.
Peter Owen, Chairman of Gopsall Fishing Club, said:
This season our members have reported the capture of the first naturally spawned wild grayling in the river. This is fantastic news as it demonstrates that all the hard work put in by the club and its partners has restored the habitat that can once again support a self-sustaining grayling population. It also provides us with some winter fishing beyond the end of the trout season.
In addition to the work delivered by the Environment Agency, Gopsall Angling Club have also continued to improve the area with other partners organisations such as the Wild Trout Trust, the Grayling Society, Twycross Zoo, Leicestershire & Rutland Wildlife Trust, Bardon Aggregates, the Crown Estate and farmers.
To view photos of the improvement works please visit our Flickr album
Published 22 August 2014