News story
Andrew Stunell visits building research establishment
Communities Minister Andrew Stunell visits the Building Research Establishment.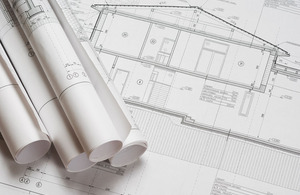 Communities Minister Andrew Stunell made his first visit to the Building Research Establishment in Watford yesterday (1 July 2010), to get an update on new designs and technology for greener homes.
Mr Stunell has previously worked in architecture so has a vested interest in how sustainable homes are progressing. He also took the Sustainable and Secure Buildings Bill through Parliament to secure the Sustainable and Secure Buildings Act 2004.
He toured the site with Dr Peter Bonfield, the Chief Executive of the Building Research Establishment, and visited the Victorian Terrace project, made up of three solid wall terraced homes. Developers, builders and engineers have been working on retrofit solutions to improve insulation, water efficiency and waste minimisation on these older homes, which are now completely overhauled. The skills and results used for the project will feed into new specifications and protocol guidance, and could even create new green jobs.
Mr Stunell said:
"Over a quarter of carbon dioxide emissions come from our homes so unless we tackle this we're never going to get the fight against climate change right. I was impressed with what I've seen at the Building Research Establishment, they are doing a fantastic job looking at different technologies and the kind of skills people need to use them across the spectrum - from designers to tradesman.
"Setting the standards for greener homes is not only about creating new ways of reducing energy consumption in new buildings, it is about updating our existing homes to make them sustainable, so I'm pleased to see the Building Research Establishment are excelling in this area on the Victorian Terrace project."
Published 2 July 2010