Andrew Stunell sends his best wishes on Diwali
As Hindu, Jain and Sikh communities gather to celebrate the Festival of Lights on 26 October Communities Minister Andrew Stunell sends his best…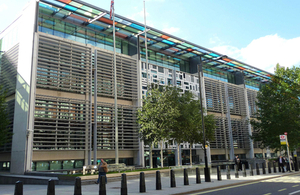 As Hindu, Jain and Sikh communities gather to celebrate the Festival of Lights on 26 October Communities Minister Andrew Stunell sends his best wishes to all of those celebrating Diwali and looking ahead to a New Year.
Communities Minister Andrew Stunell said:
The Festival of Lights is a joyful time and I send my warmest wishes for a peaceful and happy Diwali to those celebrating in communities across Britain.

As we busy about our daily lives, it is rare that we have a chance to pause and take stock. Diwali provides an important opportunity to reflect, celebrate with family and friends and share in the excitement of a New Year.  In celebrating Diwali we can appreciate the diversity that characterises this country and also recognise the common values of compassion, honesty and good will in which we can all share.

I am delighted to be able to share in the celebrations and I wish everyone a very happy Diwali and a prosperous new year ahead.
Diwali Celebrations
Last week the Secretary of State for Communities, Eric Pickles joined in the Diwali celebrations at a reception at the House of Commons hosted by The Hindu Forum of Britain. Guests including Hindu Forum of Britain President Arjan Vekaria JP, Dasturji Dr Firoze Kotwal head priest of the Zoroastrian community and Acting Indian High Commissioner, Rajesh Prasad gathered in the historic members' room which had been fittingly decorated with lights. Singer Pooja Gupta and Bharatnatyam dancer Meena Rajgopalan provided entertainment at the celebrations.
Diwali (Deepawali) is a major 5-day Indian festival, significant in Hinduism, Sikhism and Jainism. It is celebrated by millions across the globe as the "Festival of Lights" as people light lamps, particularly the traditional dipa or deeya (earthen lamp), and fireworks, signifying the lighting up of darkness and victory over evil within.
Published 25 October 2011