Andrew Stunell meets the young advisors of Waltham Forest
Communities Minister Andrew Stunell met with the Young Advisors getting involved in the Big Society in Waltham Forest.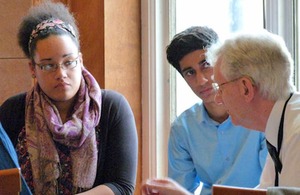 At the event, at Waltham Forest Town Hall, the minister heard presentations from the Young Advisors on the work they are doing to encourage their peers to get involved in the community and to ensure that the voice of young people is heard in local decision making.
Since their formation in 2007, Waltham Forest's Young Advisors, all aged between 14 and 21, have been a key voice in the local community offering valuable advice from their perspective. They work closely with the Council on important issues such as sexual health and drug services for young people. More recently, the group played a pivotal role in promoting take-up of the national 2011 Census.
Speaking at the event Communities Minster Andrew Stunell said:
"Everyone should be given the opportunity to get involved, to influence decision making and help shape local services.
"Today's event confirms what we know, but do not always recognise, that young people have the enthusiasm, creativity and bright ideas to make a real difference to where they live.
"There is nothing 'big' about a society that doesn't include young people, and Waltham Forest's young advisors are showing the value of their voice and a real appetite for making an active contribution. The team are an inspiration for other young people to speak up and have their say in their local communities."
Speaking of the benefits of being a Young Advisor, 16-year old Darnell said that it was about more than just listening to young people but actively taking on their advice and views.
"In that past, when we've trained councillors and how to work with young people, we've found that councillors didn't necessarily understand the issues or how to go out and engage with young people.
"At the end of the training, we made them sign pledge cards so that after a few months, you can really see the progress they've made personally."
To wrap up the event Young Adviser, Rickisha read a self-penned poem on her experiences as a young advisor and the minister was given his own pledge card to sign.
Published 10 June 2011