Andrew Stunell applauds community with designs on housing
Communities Minister visits Eden Valley in Cumbria.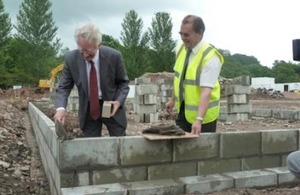 Andrew Stunell celebrated with residents of Crosby Ravensworth in Eden Valley, Cumbria, as the first bricks were laid for the village's new community led housing scheme.
With the help of the Department for Communities and Local Government, the Homes and Communities Agency and Eden District Council, local residents set up their own housing association, The Lyvennet Community Trust, in order to overcome the bureaucratic barriers holding up progress on the building of essential affordable housing.
With an investment of £660,000 by the Homes and Communities Agency and a further £1 million of funding from a Charity Bank, The Trust has created a scheme made up of 12 homes, with 10 for rent and 2 for shared ownership. An additional 8 properties for self builders are also planned, in response to interest from local people to have a hand in the design and construction of their own homes.
Speaking on the anniversary of the Prime Minister's launch of the Big Society vanguards, Andrew Stunell said:
What the residents of Crosby Ravensworth have achieved is remarkable. From canvassing the need for affordable housing to laying the first brick today they have demonstrated how community led solutions can bring lasting change to local needs. I am sure communities up and down the country will draw inspiration and ideas from the Eden Valley vanguard to shape their local services.
David Graham Chairman of the The Lyvennet Community Trust said:
We have been working on the housing project for some two and a half years and today sees another milestone with the start of build. Involvement with the Big Society vanguard has helped speed up progress and we are grateful for the support given by our community, construction team, council and national government agencies.
The community led solutions are bringing widespread benefits to the area and Mr Stunell also visited the Butchers Arms pub, purchased by the community for £250,000 raised through a shares initiative. The community pub is to re-open shortly as a traditional Cumbrian pub selling local ales and providing a venue for local sports, events and celebrations.
Published 21 July 2011