Press release
Andrew Blakeman, Della Burnside and Dr Christine Costello's re-appointments as Non-Executive Directors of NHS Blood and Transplant confirmed
Andrew Blakeman, Della Burnside and Dr Christine Costello's re-appointments as Non Executive Directors of NHS Blood and Transplant (NHSBT) have…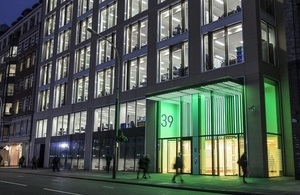 Andrew Blakeman, Della Burnside and Dr Christine Costello's re-appointments as Non Executive Directors of NHS Blood and Transplant (NHSBT) have been confirmed by the Secretary of State for Health, Andrew Lansley.
Andrew Blakeman is a chartered accountant and Finance Director at BP OIL UK Ltd.
Della Burnside is a solicitor and is General Counsel & Company Secretary of McDonald's Restaurants Limited & Division Counsel, Northern Europe.
Dr Christine Costello is a consultant haematologist.
Chairman of NHSBT Bill Fullagar said:
"We are pleased that we can continue to work with these Non Executive Directors. All three bring a wealth of experience and have already contributed a lot to the organisation. "
Andrew Blakeman has also been appointed as the Chair of the Governance and Audit Committee.
NHSBT is a joint England and Wales Special Health Authority. Its remit includes the provision of a reliable, efficient supply of blood and associated services to the NHS in England and North Wales. It is also the organ donor organisation for the UK and is responsible for matching and allocating donated organs.
ENDS
Notes to Editors
For media enquiries only please ring the Department of Health on 0207 210 4990.
1. Andrew Blakeman and Della Burnside's re-appointments started on 2 April 2012 and Dr Costello's will start on 1 June 2012.  Andrew Blakeman also took on the role of Audit Committee Chair on 2 April 2012.
2. Andrew Blakeman joined the BP Group in 1996 following eight years with Touche Ross & Co. Della Burnside joined McDonald's in 2007, having previously worked for easyGroup (UK) Ltd and following a number of years as a Partner in private practice. Dr Costello is a Justice of the Peace and has previously been a member of the Independent Monitoring Board of Wandsworth Prison.
3. These appointments are made in accordance with the code for public appointments, issued by the Commissioner for Public Appointments.  All appointments are made on merit and political activity plays no part in the selection process. However, in accordance with the original Nolan recommendations, there is a requirement for appointees' political activity (if any declared) to be made public.  Andrew Blakeman, Della Burnside and Dr Christine Costello have declared no political activity.
4. Andrew Blakeman, Della Burnside and Dr Christine Costello hold no other Ministerial public appointments.
5. The Audit Committee Chair role is remunerated at a rate of £13,136 per annum and the Non Executive Director role is remunerated at a rate of £7,883 per annum, both roles for around 2 days per month. The appointments are made for a period of four years.
6. Andrew Blakeman, Della Burnside and Dr Costello will join the 4 other Non Executive Directors on NHSBT's Board - Professor John Forsythe, George Jenkins, Shaun Williams and Roy Griffins.
7. Further information on NHSBT is available on NHS Blood and Transplant's website.
8. The NHS Organ Donor Register records the details of people who have registered their wishes to donate organs and/or tissue after their death for transplantation. This information is checked after someone has died, by authorised medical staff, to establish whether a person wanted to donate.
9. The NHS needs 7,000 units of blood daily to supply hospitals across England and North Wales. Currently, 4% of the eligible population are active blood donors, helping to ensure that hospital demand is met.
10. To join the NHS Organ Donor Register or to register as a blood donor call the donor line on 0300 123 23 23. You can also join online by visiting the Organ Donor Register website or the Give Blood website.
Published 13 June 2012