World news story
Ambassador O'Connell launches project with Assembly and Goverment of Kosovo
Ambassador Ruairí O'Connell, PM Isa Mustafa and Assembly Speaker Kadri Veseli signed a Memorandum of Understanding to launch a project which will help strengthen the transparency and accountability of Kosovo institutions.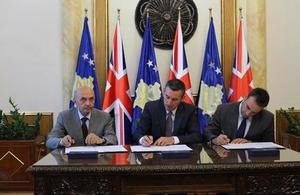 [Original speech delivered in Albanian language]
Dear Prime Minister, Dear Speaker of the Parliament, Dear all,
The world has already discovered what Kosovans can achieve if given the opportunity. Majlinda has clearly proved this in Brazil. A champion who with dedication, hard work and self-denial, and with much love for her country achieved the highest reach. Renouncing offers worth millions from other countries, without unfair assistance, Majlinda managed to make Kosovo proud. This is exactly the standard to be adopted for reaching high.
I remember my first meeting with the Prime Minister when I arrived in Prishtina. During the conversation, he said that nepotism and clientelism presented the biggest problem for Kosovo. I began thinking how to help Kosovo in the recruitment of independent and professional candidates for senior posts. And, through this, to demonstrate that Kosovo's leaders really want to fight nepotism. When I proposed this idea to the Speaker of the Parliament and the Prime Minister, I received immediate support from both. Now, I do not want to praise the willingness of the parties, because after all I am not the spokesperson of either, and I do not wish to be their spokesperson because I am not being paid from their budget.
Fair and merit-based employment in Kosovo is a problem. Nepotism and family and party-based employment are not new. Recently we heard phone conversations of senior state officials and their influence in hiring their relatives. As I said, this is not new or something that we did not already know.
Employment to honor someone or to repay a debt is wrong. A country does not function this way. Nepotism is a cancer that kills a country. This happens for two reasons:
Because the quality of the candidate is not taken into consideration, and
Because it creates debt that must be repaid, to the detriment of society.
If the practice of employing unsuitable candidates continues, it will destroy Kosovo - there is no doubt about it!
At the moment, no one believes that employment is based on merit and qualifications. Therefore, we must break this practice and restore citizens' confidence in the institutions of Kosovo.
Kosovo today has excellent role models of how to achieve top results. It has Majlinda Kelmendi who turned her successes into national pride. Kosovo has many more Majlindas, Ritas, and Granits willing to achieve great results and make Kosovo proud if given the opportunity. Kosovo has incredibly talented youth. Although not everyone can earn gold medals, many of them can succeed in society and are willing to help Kosovo to progress and develop.
What would happen if Kosovo sent athletes to the Olympic Games not based on merit and performance, but based on political and personal background? So, let the Olympic Committee of Kosovo serve as an example that results are achieved by choosing people on the basis of merit rather than connections. In other words, give a chance to the other Majlindas out there.
I hope we have gathered here with a common goal. Today, we hope to open a new chapter in the employment process in Kosovo. We are helping Kosovo to find the best independent people, ready to lead the state institutions.
The British Embassy will fund an independent company to manage the recruitment process of senior positions in the institutions of Kosovo. This company will present a shortlist of the most qualified candidates for those positions. However, Kosovo is a sovereign country and will have the responsibility to appoint the best candidates from the shortlist. If the project succeeds, it will show that Kosovo has opened a new chapter.
This will be a clean process. We hope that the best candidates will apply regardless of gender, ethnicity, or even if they are a brother or sister of a Minister, as long as they are not party affiliated. Initially, we will start with the recruitment of 20 senior vacant positions. If we manage to prove that the recruitment process can be conducted free of political influence, this may serve as a basis for how future recruitments should be done.
One thing is clear, the British Embassy will not decide for you. Your institutions will decide. I do not know if your leaders are ready and serious. You, the people of Kosovo, are the ones to judge whether the recruitment was successful or not.
Citizens must demand from their leaders that future recruitment processes, at every level, meet the same standard and nothing less. Let this process be the rock that breaks the idea that nepotism and clientelism are acceptable in Kosovan society.
Finally, I encourage and hope that the support of Kosovo leaders continues and that we employ the most qualified people in all state institutions.
I am aware that this is not an easy task. Will it succeed? It depends on you!
Thank you for your attention!
Published 15 August 2016