World news story
Ambassador Matthew Gould hosts Queen's birthday celebrations
This was published under the 2010 to 2015 Conservative and Liberal Democrat coalition government
The British Ambassador to Israel Matthew Gould and his wife Celia hosted over 600 guests at the British Residence in Ramat Gan in celebration of Queen Elizabeth's official birthday.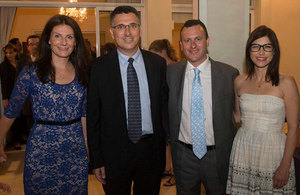 Among the guests enjoying the traditional British food and music, were Interior Minister Gidon Saar, Members of the Knesset, Members of Parliament, foreign ambassadors and leading CEOs and executives from the business world.
In his speech, Ambassador Gould set out why this year's celebration had a universities theme, explaining "Just as Israel is rightly proud of its universities, so we in the UK are very proud of ours – depending on which survey you use, we have either 3 or 4 of the world's top ten universities in Britain. In the past year we have seen a proliferation of links between our universities. It is a partnership with huge potential, based on mutual respect and excellence."
The ambassador also spoke about some of the highlights of the year, the most memorable of which was the visit of Prime Minister David Cameron: "David Cameron came and established beyond doubt his friendship for Israel, his belief in Israel, and his ambitions for the partnership between Britain and Israel. He celebrated our links in tech and science. He saw the Knesset at its most democratic, and understood the meaning of 'balagan'. He set out to the Knesset a powerful vision for a future of peace with a Palestinian state sitting alongside Israel. He didn't hide our differences, which are well known, but made clear that our relations are so much more than total of those differences."
To view additional pictures from the Queen's Birthday Party as well as other British Embassy events, please visit our Flickr picture gallery.