World news story
Ambassador David Quarrey hosts LGBT young leaders from IGY
British Ambassador to LGBT youth: "I am Ambassador to all of Israel's citizens and communities. I will march with you".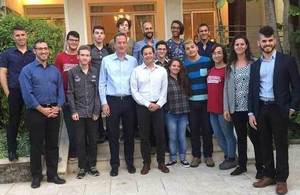 UK Ambassador to Israel David Quarrey and his partner Aldo Henriquez hosted a group of LGBT young leaders from IGY (Israeli Gay Youth), an Israeli NGO, dedicated to serving all LGBT youth at their residence.
The Ambassador said,
The real change will begin with your work from within and we're here to support you.
This was the first of what will be a series of meetings between the Ambassador and the gay community. The relationship began after the events in Jerusalem Pride Parade took place last year but this is the first time the Ambassador and Aldo invited LGBT youth to hear from them about their daily challenges.
During the event the Ambassador shared some of his experience growing up and talked about the tremendous change the UK has underwent in the past 25 years. He also mentioned that the FCO has 7 LGBT ambassadors around the globe. The main focus of the night were the stories of the teens, who unraveled their personal stories.
Ambassador Quarrey said in the meeting:
I invited you here today to tell you that I am Ambassador to all the citizens in Israel. We belong to the same community. The change starts from within and it's because of your doings and we are here to support you. The most challenging time to be gay is at school, but I wholeheartedly believe that it get better.
Mandy Michaeli, Director of IGY, said:
I welcome the invitation and thank the Ambassador and Aldo for hosting us. I'm amazed to see our members sitting in front of the Ambassador and his partner and sharing their stories – something I would never imagine possible when I was a teenager. We are moving forward towards working closely and collaborating with the embassy.
Published 11 May 2016