Press release
Alun Cairns calls on Welsh businesses to step up to ambitious exporting challenge
Wales Office Minister highlights success of Gower businesses in overseas markets ahead of 'exports roadshow'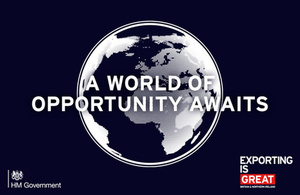 "It is time for businesses in Wales to step up and seize exporting opportunities with both hands," Wales Office Minister Alun Cairns will say today during a visit to Gower based businesses making their mark in global markets.
Mr Cairns will visit A1K9, the leading personal and family protection dog training company in the world who have sold more than 1,000 highly trained dogs to customers and their families to over 30 countries worldwide.
Mr Cairns will also visit Adwell Foods that produce a range of hot drinks such as Welsh Brew Tea and have had huge success exporting to the USA.
The visit comes ahead of the arrival of the 'exports roadshow' in Wales as part of the Exporting is GREAT campaign - a new five year national initiative which will provide advice and expertise to support businesses at every step on their exporting journey. The aim is to get 100,000 additional companies in the UK exporting by 2020.
Starting its two week tour in Pembroke Dock on 15 Feb, a 32 tonne, 40ft long UKTI Export Hub truck will visit ten locations across south, mid and north Wales and will host a series of seminars, drop-in sessions and one-to-one meetings with exporting experts working in markets across the globe.
Wales Office Minister Alun Cairns said:
Wales is bursting with innovative and world-class companies that are boosting our economy, creating jobs and changing lives across the country. But now is the time to raise the bar and show the world just what Wales has to offer.

The UK Government is working tirelessly to make the UK the best country in the world to do business with - making it easier, faster and simpler for companies to start exporting.

It is now time for businesses in Wales to step up and seize these opportunities with both hands. Taking the time to visit the export hub on its tour of Wales could be their first step.

Our mission is to become the world's greatest exporting nation, capturing the imagination of the Welsh public, boosting business confidence and national pride, and empowering more Welsh companies to go out and succeed in global markets.
Adwell Foods Ltd of Swansea who distribute their extensive range of Welsh Brew Tea and Welsh specialty Tea Birds, throughout the UK retail and food service sectors have secured a new export contract, which will facilitate distribution of their teas along the east coast regions of the USA, where there remains strong Celtic connections with Wales.
Managing director Alan Wenden said:
This new agreement will further extend our existing trade with the USA.

The brand continues to grow in this market, where many Welsh societies wish to retain their connection with Wales.
During a recent visit to north Wales, Secretary of State for Wales Stephen Crabb and Trade and Investment Minister Lord Maude set a challenge for businesses and the Welsh Government to make 2016 "the year of outstanding Welsh export success".
Businesses across Wales are encouraged to attend an Exporting is GREAT event during the ten-leg hub roadshow across south, mid and north Wales (15-26 Feb) and speak to experts on a range of exporting issues, including:
Export finance
Export documentation
Legal issues, such as agency and distributor agreements
Foreign currency
Support for growing your export business
Access to export opportunities
Published 11 February 2016