All Party Parliamentary inquiry report into children missing from care: government response
The Department's statement responding to the All Party Parliamentary report on runaway children in care.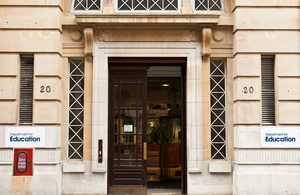 Children's Minister Tim Loughton said:
This report goes right to the heart of some serious weaknesses in the current system, which leave far too many of the most vulnerable children in society exposed to harm and danger. It is completely unacceptable that existing rules are simply being ignored and that frankly, some local authorities and children's homes are letting down children by failing to act as a proper 'parent'. We are looking in detail at all the issues raised and will set out urgent next steps in the coming weeks.
It is wrong for local agencies not to have a grip on how many children are going missing from care nor for proper alarms to be raised and action taken when teenagers run away multiple times. We tightened up the regulations in 2011 so it is alarming that so many children are still being placed in care miles away from their homes - which do not meet their needs, and without the proper checks; care plans put in place; or even the local social workers told. It is shocking to hear that any professional could think that teenagers at risk of being physically or sexually abused are making lifestyle choices of their own volition, rather than being the victims of crime. And the report raises important concerns about how the current inspection and regulatory framework for children's homes could be improved.
After the Rochdale case, we asked the Deputy Children's Commissioner Sue Berelowitz to report urgently to us on the emerging findings from her own ongoing, extensive two-year inquiry on gang and group sexual exploitation - with detailed recommendations on how to keep young people in children's homes safe from this appalling abuse. We will publish this within weeks and set out robust next steps in toughening up the system and addressing the concerns raised.
We have set out a clear national plan on tackling child sexual exploitation - working with the courts, police and social services, to prosecute and jail abusers; protect young people at risk; and help victims of these disgusting crimes get their lives back on track. We are already seeing progress on the ground and will publish a detailed update report together with an accessible step-by-step guide for frontline practitioners on what to do if they suspect a child is being sexually exploited.
DfE enquiries
Central newsdesk - for journalists 020 7783 8300
General enquiries - for members of the public 0370 000 2288
Published 18 June 2012