Alistair Burt visits Hadasit
Minister for the Middle East calls in at Technology Transfer Company of Hadassah Medical Organisation in Jerusalem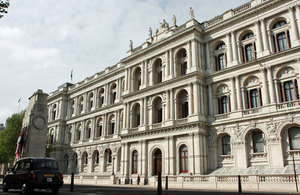 Britain's Minister for the Middle East Alistair Burt visited Hadasit - the Technology Transfer Company of Hadassah Medical Organization (HMO) at the Hadassah Ein Kerem Hospital in Jerusalem earlier today.
Ophir Shahaf, Chief Executive Officer of Hadasit Bio-Holdings briefed the minister on the work and research at the incubator, as well as an overview of Israel's status as a world-class leader in the fields of high-tech and R&D.
Commenting on his visit to Hadasit, Alistair Burt said:
"Since we have been in government we have sought to expand our deep economic links with Israel. The importance given to Israel in the government's recent economic White Paper illustrates the extent of our ambition. In September we will open a High Tech Hub in the British Embassy in Tel Aviv to help make this a reality.
"Today I visited Hadasit and saw the remarkable leadership and expertise that is Israel is developing in Life Sciences and the possibilities for the future - to develop cures and drive economic growth. I hope that under the tutelage of the growing UK-Israel Life Sciences Council, which was established earlier this year, we will forge an even closer partnership in this area - to the benefit of both our countries."
Hadasit was established in 1986 and promotes and commercializes Hadassah Medical Organisation's continuously generated intellectual property and Research & Development (R&D) capabilities. Intellectual Property generated by HMO has already gained global recognition due to Hadasit's successful enterprising of Hadassah's biomedical technology. Hadasit has gained global recognition for successfully enterprising biomedical technologies developed at Hadassah. They have a rich portfolio of over 200 patent families covering a wide variety of novel therapeutics, diagnostics and medical devices. Hadasit has established over 30 companies, eight of which operate under their publicly-traded subsidiary, Hadasit Bio-Holdings. In addition, they have dozens of research and license and option agreements with global strategic partners.
Published 30 June 2011