Alistair Burt visits Gaza
British Foreign Office Minister for the Middle East Alistair Burt MP visited Gaza as a part of his four-day visit to Israel and the Occupied Palestinian territories this year.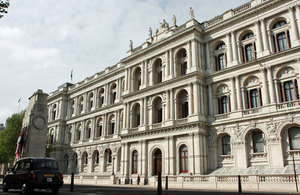 Mr. Burt is the first FCO minister to visit Gaza for at least five years. Minister Burt visited an UNRWA school in Jabalia refugee camp. He met with students and teachers there and participated in the summer camp activities taking place at the school. He also met with senior members of UNRWA to discuss the challenges faced by the UN community in Gaza and UNRWA in particular, and to examine ways to further support the close working relationship between the UK and UNRWA. The UK is UNRWA's second largest bilateral donor.
In an informal discussion, Minister Burt also met with Palestinian private sector leaders and discussed the challenges faced by the business community in Gaza. He ended his visit with meeting Palestinian civil society activists to hear about their hopes of the Palestinian reconciliation and the political future of Gaza.
On his visit to Gaza, Minister Burt said:
"As the first british minister to visit gaza for five years I was struck today by the need for further progress to allow imports by unrwa and others to complete much needed projects and to facilitate exports.
There have been welcome changes in the last year and in last two weeks we have seen the approval of more unrwa projects. But while we will never underestimate the security needs of israel progress, the high levels of unemployment, collapse of private sector business, and traffic through the tunnels still indicate that more could and should be done to improve the situation."
In addition, Minister Burt visited the southern Israeli town of Sderot, and met the mayor and local residents to hear how the years of rocket fire have affected their daily lives.
Burt visits Gaza
Search the news archive
Published 29 June 2011