Alistair Burt tours northern Israel
Minister for the Middle East meets Arab leaders in Nazareth, views damage caused to Beit Oren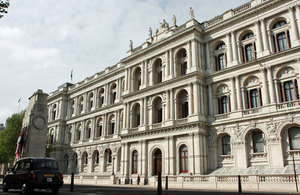 Minister for the Middle East Alistair Burt toured Northern Israel today as part of his visit to Israel and the Palestinian territories. His day started at Given Imaging in Yoqneam - producers of the revolutionary PillCam. The visit was a further chance to acknowledge the UK's desire to forge strong ties with innovative Israeli companies who are at the cutting edge of high-tech research and development.
From there, the Minister travelled to the Carmel Forest and Beit Oren to see first-hand the damage caused by December's fire and to hear about the efforts to renovate the area. He met with residents of Beit Oren and walked around the burnt-out shells of the homes on the kibbutz. One resident told him that they managed to finally get the fire under control just metres from the kibbutz's central gas supply.
Minister Alistair Burt visits the Carmel Forest
He then moved to Kibbutz Eshbal and was profoundly impressed by the dedication of the young founders of this revolutionary kibbutz to education and making a difference in the lives of young Israelis who would otherwise end up the streets.
In Nazareth, the minister met with Mayor Ramez Jaraisy, MKs Hana Sweid and Jamal Zahalka and other senior officials from the Arab community in Israel and heard their concerns about issues facing the community, including the move to set up a parliamentary commission of inquiry into NGOs. The Minister stressed that the UK is a firm friend of Israel, and believes that the founding fathers of the State got it right in the Declaration of Independence and that all citizens, regardless of religion or ethnic identity, must be treated equally.
He added that the UK was concerned by the proposed parliamentary committee of inquiry, saying that NGOs play a valuable and legitimate role in a democracy. The UK has funded many of the organisations who could be probed, and believe that they play a critical role in the region and help contribute towards resolving the conflict between the sides.
He also found time to make a short visit to the Basilica of the Annunciation while in Nazareth - 30 years after he had first visited the holy place.
Published 17 January 2011