Press release
Alex Aiken appointed as Executive Director of Government Communications
Alex Aiken has been appointed Executive Director of Government Communications.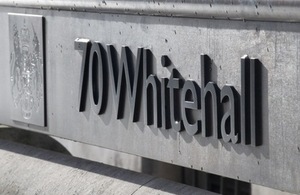 9 January 2012
Alex Aiken has been appointed Executive Director of Government Communications. Based in Downing Street and the Cabinet Office, Alex will be the most senior communications professional in the Civil Service. He will oversee the communications around the Civil Service Reform programme and the establishment of shared communication hubs, with a responsibility to ensure that all activity represents value for money.
He is replacing Godric Smith who has been in the role on an interim basis since the departure of Jenny Grey in the autumn.
Minister for the Cabinet Office Francis Maude said:
I would like to thank Godric for the work he has done over the past few months, and I hope he considers returning to Whitehall at some point in the future.

I am pleased to welcome the appointment of Alex Aiken as Executive Director of Government Communications. Alex will also help drive forward the communication of our Civil Service Reform programme, and our plans to save the taxpayer money by establishing shared communication hubs for government.

Alex brings with him tremendous expertise and experience. He has a strong track record of delivering communications that represent value for taxpayers' money.
Alex Aiken said:
I am delighted to be taking on this role and will focus on delivering effective and efficient government communications. The civil service has excellent communications staff at every level and I look forward to leading the whole profession in delivering the highest standards in explaining government policy.
Note to editors
Alex will start work on some Cabinet Office projects later this month before formally taking up the role in April. He is currently working on Civil Service Reform on part-time secondment from Westminster City Council. 
He joins the government from Westminster City Council, where he was Director of Communications and Strategy from March 2009, leading a team of 80 staff responsible for communications, research, member services, policy development and external consultancy work.
He was previously Head of Communications at the Council (June 2000 to 2009) where he led a team responsible for external and internal communications, consultation, public affairs and external consultancy work. He was also Head of Communications at Hillingdon and Richmond upon Thames in addition to the Westminster role over this period.
Published 9 January 2012