Alcohol abuse: Minister visits areas leading fight on drink-fuelled crime and disorder
In a series of visits, Crime Prevention Minister Norman Baker highlighted the government's programme of work to tackle alcohol abuse.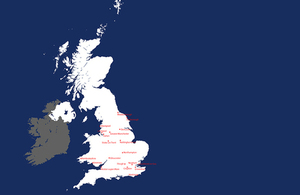 The minister visited Hastings and Northampton, which are among 20 Local Alcohol Action Areas in England and Wales that are working with the government to combat drink-fuelled crime and disorder and the damage done to people's health.
Launched in February, the national scheme involves local agencies, including licensing authorities, health bodies and the police, working in partnership with businesses and other organisations to address the problems which can be caused by alcohol. sample link
Policing costs
The minister also visited Cheltenham to mark the borough's introduction of the late night levy. It is the second local authority in England and Wales to bring in the power, which allows councils to collect a contribution from late night businesses selling alcohol towards the cost of policing.
Under the Cheltenham scheme, licensed premises selling alcohol between midnight and 6am pay an annual amount to help offset the cost to the taxpayer of the late night economy.
Crime Prevention Minister Norman Baker said:
I am delighted to have had the opportunity to visit areas which are embracing the government's alcohol strategy.

The coalition government is taking a wide range of action to tackle alcohol-related harm, which is though to cost society around £21 billion a year.

I was pleased to see the work which is taking place in Local Alcohol Action Areas to tackle the problems caused by excessive alcohol use. It is also welcome that businesses benefiting from the buoyant night-time economy in Cheltenham are now helping to pay towards the cost of policing through the late night levy.
Cheltenham is the second authority to introduce a levy after Newcastle upon Tyne. Islington has confirmed it will become the first London borough to bring in the power later this year.
Each Local Alcohol Action Area is receiving support and expertise from the Home Office, the Department of Health, the Welsh Government, Public Health England and Public Health Wales. Areas are also being put in touch with mentor areas that have successfully tackled the same issues.
Published 8 April 2014