World news story
Alberta and the United Kingdom establish new low carbon partnership
British High Commissioner Howard Drake and Alberta Energy Minister Margaret McCuaig-Boyd sign a UK-Alberta Low Carbon Innovation and Growth Framework.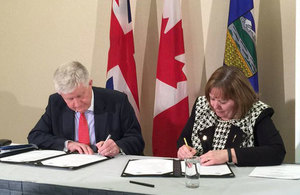 Building on already strong links, the Framework will facilitate partnerships between Alberta and UK stakeholders that will drive economic development, diversification, innovation and job creation; enhance collaboration on low carbon technology and innovation; and further develop UK-Alberta dialogues on energy and environmental policy and regulation.
Howard Drake, British High Commissioner:
The climate change deal in Paris was historic. We now need to do the real work of implementing it. We welcome Premier Notley's Climate Leadership Plan, which is a step change in Alberta's approach to climate. This Framework recognises the importance the UK places on helping Alberta meet its environmental challenges. But this is not a one way street. Alberta has some world class regulatory and performance standards in areas such as shale gas development. We've already been tapping into that expertise, including with the Alberta Energy Regulator. This Framework will grow that dialogue further.
Through this Framework, the Governments of Alberta and the United Kingdom will work in partnership to bring industry, innovators and other stakeholders together to grow low carbon economies in both jurisdictions. Focus areas include increasing the proportion of renewables in energy markets; promoting energy efficiency; smart cities; environmental performance including emission reduction and water usage; and energy regulation and performance, including in onshore shale gas.
Margaret McCuaig-Boyd, Alberta Minister of Energy:
Alberta is a world-class energy producing jurisdiction. Our regulatory processes and skilled workforce are recognized around the globe as being second to none. Now, add to that our government's Climate Leadership Plan, which is showing the world how responsible oil and gas production can go hand-in-hand with environmental stewardship. We are pleased to partner with the UK to reduce greenhouse gas emissions and take real action against climate change. There is much our jurisdictions can learn from one another and the framework we are signing today paves the way for that work to begin in earnest.
Published 15 March 2016