World news story
Albanian Lion 2013: impressive UK capability
This was published under the 2010 to 2015 Conservative and Liberal Democrat coalition government
The third annual exercise represented a significant increase in both the scope of the deployment and engagement with the Albanian military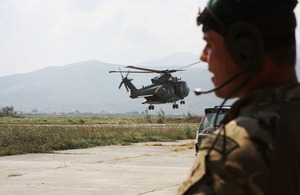 Albanian Lion 13 took place in southern Albania from 28 August to 2 September 2013. The operation saw most of the UK's Response Force Task Group (RFTG) deploy, training alongside Albanian forces, in an operation that culminated in a Non-combatant Evacuation Operation (NEO), involving Embassy staff. Full use was made of public diplomacy opportunities. Albanian Lion 13 was the third annual exercise in Albania since 2011, and represented a significant increase in both the scope of the deployment, and engagement with the Albanian military, ministers and the public through media opportunities.
Albanian Lion 13 deployed most of the RFTG to southern Albania, including two capital RN ships (HMS Bulwark and HMS Illustrious), 2 RFA vessels (RFA Mounts Bay and RFA Lyme Bay) and a strategic Roll on – Roll off ferry (MV Hurst Point). The RFTG mustered off Vlore and prepared to project the landing force from 42 Commando Royal Marines ashore. The five ships carry approximately 1200 people, along with a further 1000 with the landing force comprising 42 Commando, as well as reconnaissance troops from 30 Commando, artillery from 29 Commando, Engineers from 24 Commando, and the joint Headquarters staffs from COMUKTG & 3 Commando Brigade. At the height of the exercise the RFTG deployed 800 men ashore. The RAF provided two HAWK jets, three MERLIN, and three LYNX helicopters in addition to Royal Navy LYNX helicopters. In total the deployment totalled approximately 3000 service and support personnel. The exercise was challenging in scope; conducting theatre entry on 28 Aug, having already deployed reconnaissance forces earlier than that, Royal Marines conducted a defeat of "enemy" forces on Sazan Island while isolating those on the Vlore peninsula, defeating the positions on the Vlore peninsula on 29 Aug, and then conducting security clearance of the Vlore bay area in order to put the heavy ships inside and offload equipment to prepare for operations further inland. These operations became a NEO in which the embassy was involved at Kucove and Vlore, a raid against an insurgent logistics site in Himare, as well as the reconfiguration and tactical re-stow of equipment aboard the ships all before 3 Sep.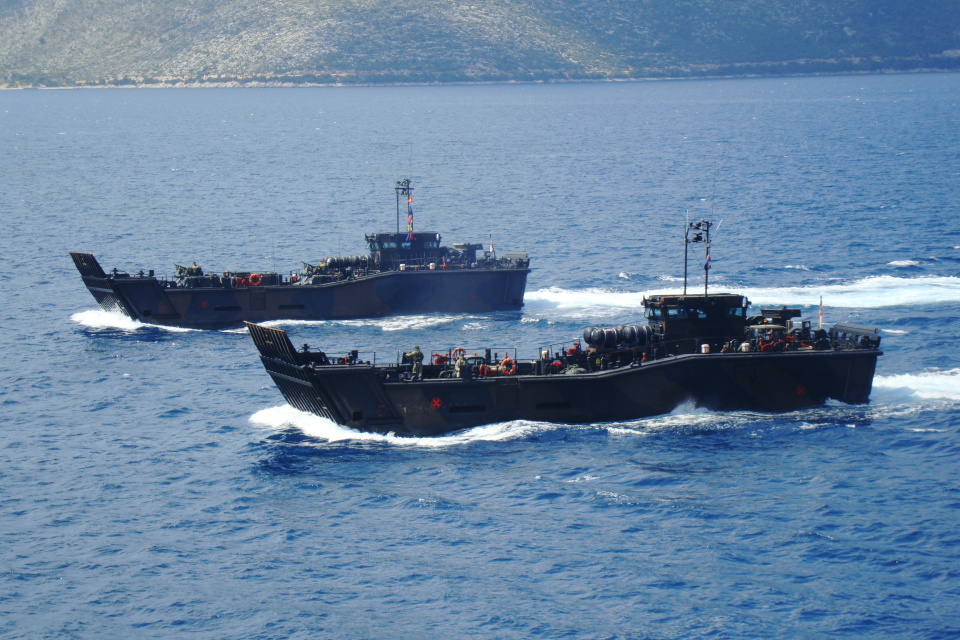 While Exercise Albanian Lion ran from 28 August to 2 September, elements of the task force arrived in the preceding days, including the arrival of two HAWK aircraft from 100sqn RAF. These jets added a new dimension to the exercise by comparison with past exercises and were used to simulate TORNADO close air support to the RFTG. Early engagement by 100sqn with the Embassy enabled us to make full use of their public diplomacy potential, starting with a press conference on their spectacular flypast arrival on 23 September, at which the Albanian Chief of Defence Staff (CHOD), General Xhemal Gjunkshi, the Ambassador, and Colonel Kevin Oliver, Deputy Commander 3 Commando Brigade Royal Marines spoke.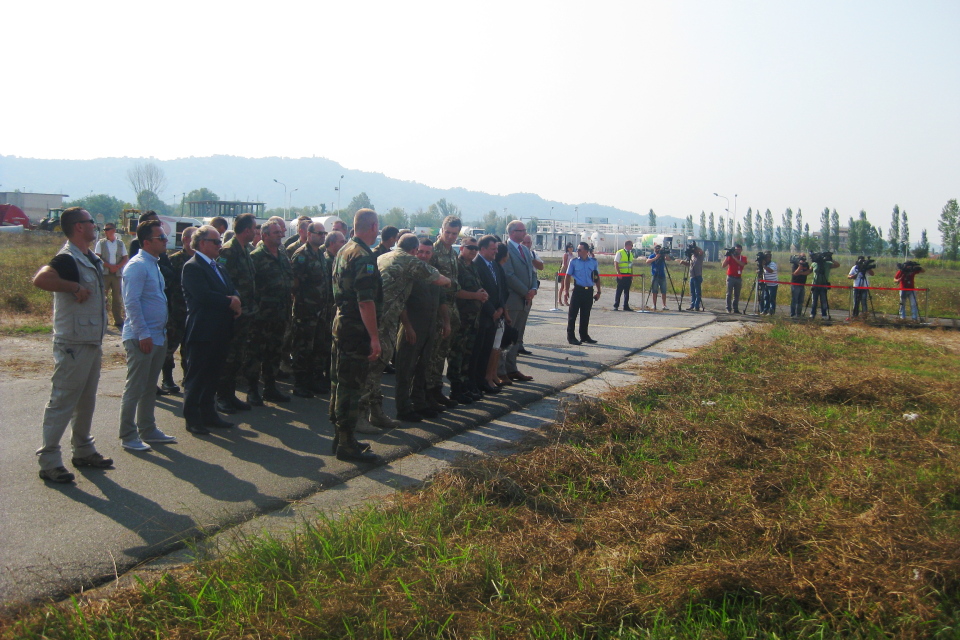 Speeches covered UK-Albanian defence cooperation, NATO integration, and an outline of the exercise itself. 100sqn presented a squadron print to General Gjunkshi. The event received blanket media coverage. 100sqn were later able to arrange a flight for the newly appointed Commander of the Albanian Air Force, General Frederik Beltoja, a former MIG pilot.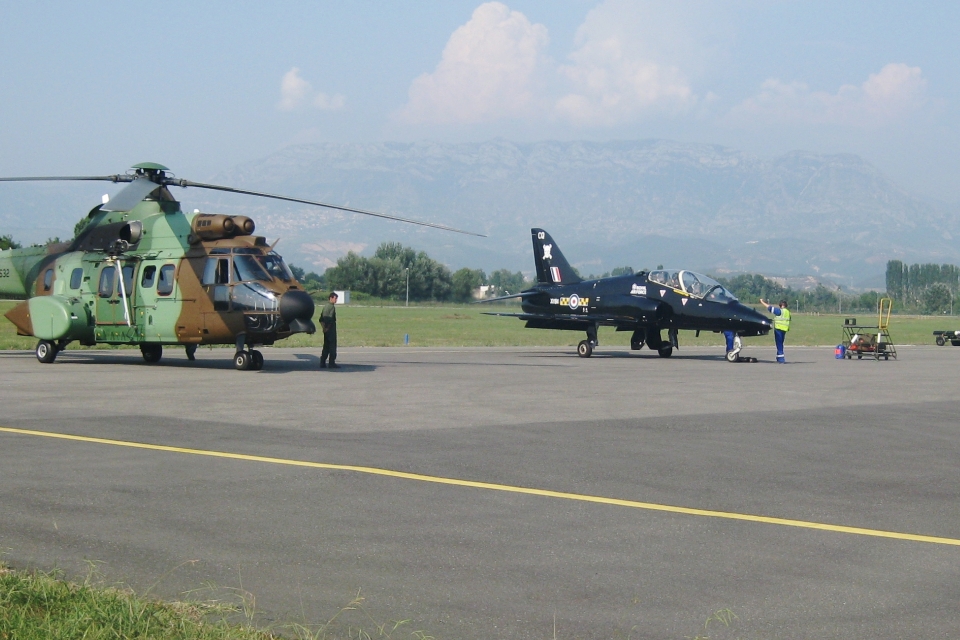 On 29 August HMA visited, with the General Gjunkshi and senior Albanian generals, Sazan Island to witness the aftermath of the initial battle. Various members of 42 Commando explained their roles and a further press conference was held which received widespread coverage in the Albanian media.
Major General Ed Davis Commander UK Amphibious Forces, visited Tirana on 30 August in the margins of Exercise "ALBANIAN LION 13". He called on: on Sali Berisha, Prime Minister, Arben Imami, Minister of Defence and the CHOD General Xhemal Gjunkshi, Mrs Mimi Kodheli, Minister of Defence in the incoming government.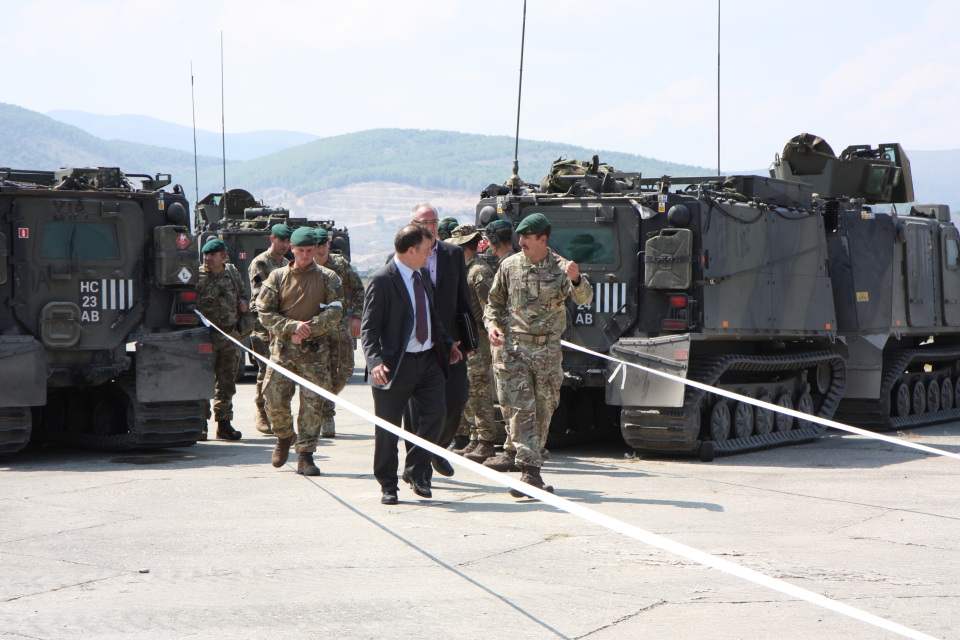 Operations culminated, on 2 September with a NEO, in which the embassy participated, exercising our Crisis Management Plan (CMP), and deploying teams to the field. 12 members of embassy and British Council staff flew by Albanian Air Force helicopter to Kucova where they deployed field equipment to process 58 refugees, working with the Royal Marines. A number of staff fulfilled designated roles in the CMP, processing evacuees, while other played the roles as distressed British nationals. At Kucova airfield a group of marines secured the area from an 'insurgent' group, in order to allow embassy staff to achieve the successful evacuation in safety. At Vlore naval base evacuees were processed and then removed by landing craft to the larger warships in the bay, HMS Illustrious, and HMS Bulwark.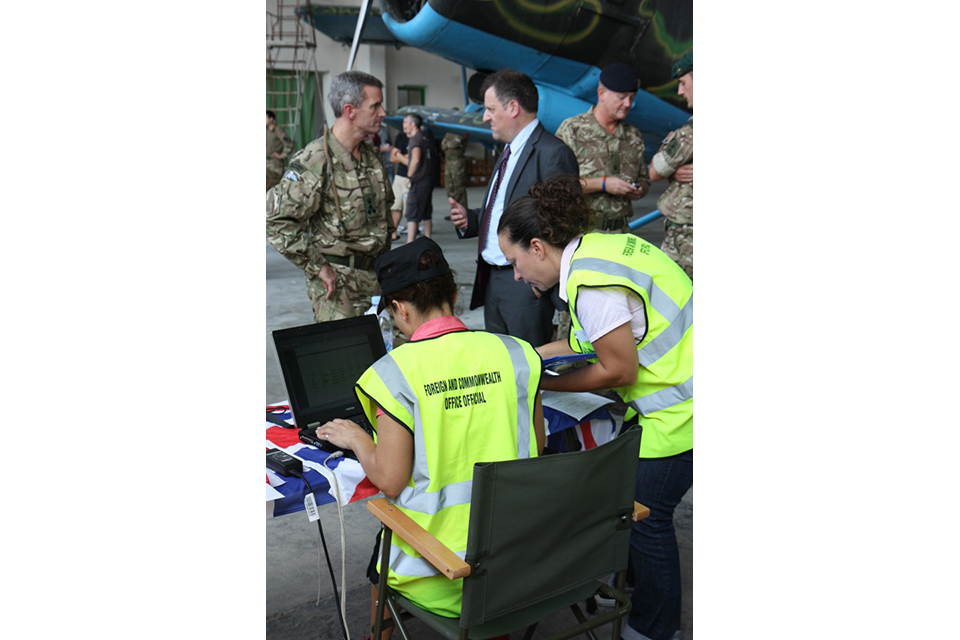 Once operations had been concluded, a VIP day in the Bay of Vlore on board the RFTG brought events to a close. President Nishani was invited to HMS Illustrious where he was hosted to lunch accompanied by outgoing Defence Minister Imami, incoming Defence Minister Kodheli, the CHOD and representatives of the Albanian armed forces, Kosovan Defence minister Ceku, and Kosovan Chief of Defence, General Kastrati.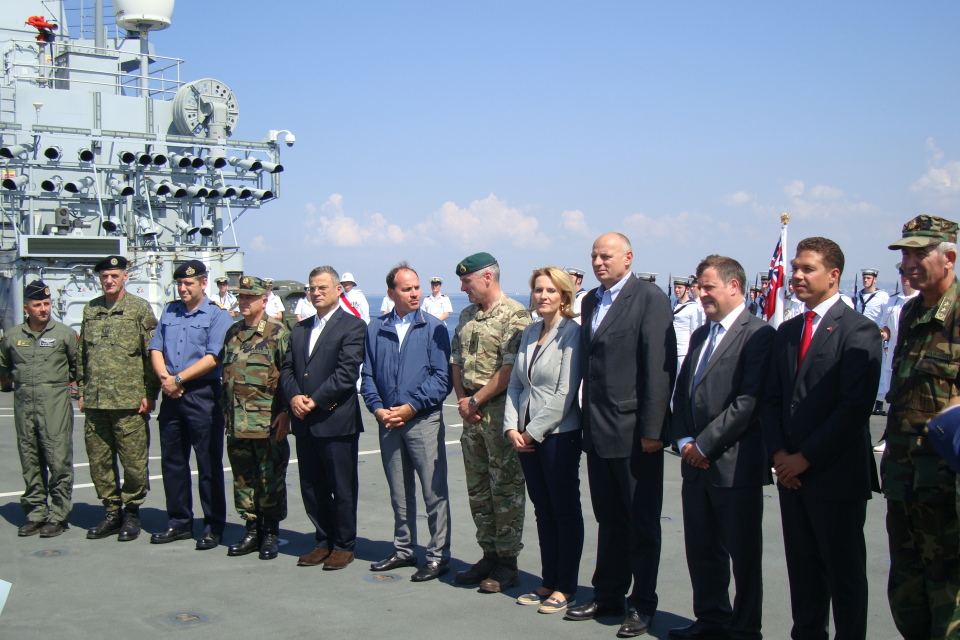 A press conference was held on deck, at which President Nishani, Major General Davis, and Defence Minister Imami spoke. The party were given a demonstration of the RFTG's seaborne capabilities, and a fly past by the HAWK jets, and MERLIN and LYNX helicopters. Following the President's departure, the remainder of the party were transferred to HMS Bulwark for a display of her capabilities and a presentation of the RFTG.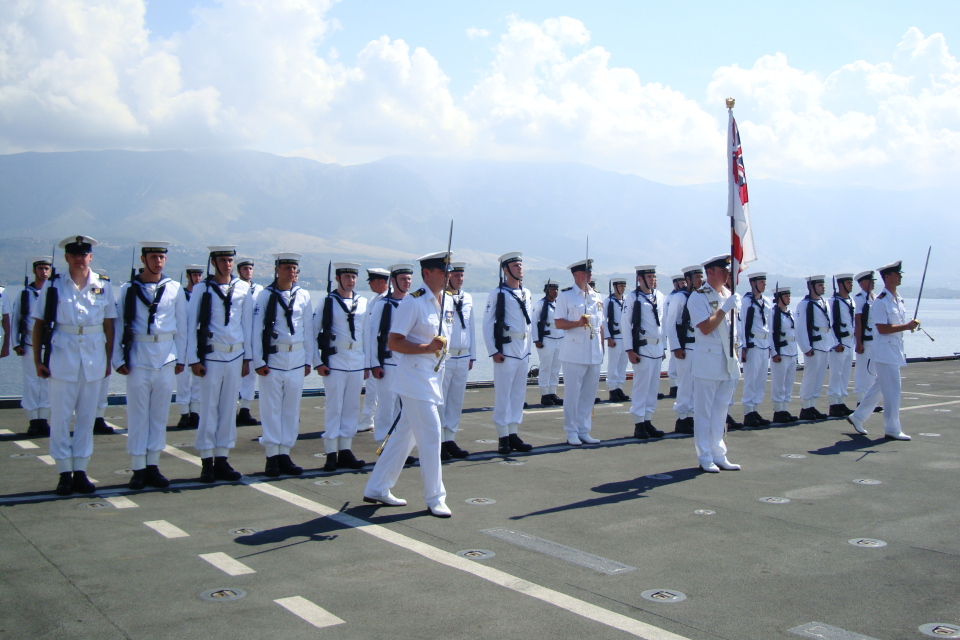 President of the Republic of Albania Bujar Nishani speech during his visit at the "Albanian Lion 2013" exercise.
British Ambassador Nicholas Cannon speech at the opening of "Albanian Lion 2013" Training press conference.
Col Oliver Deputy Commander 3 Commando Brigade Royal Marines speech at the "Albanian Lion 2013" press conference.
Document information
Published: 11 September 2013